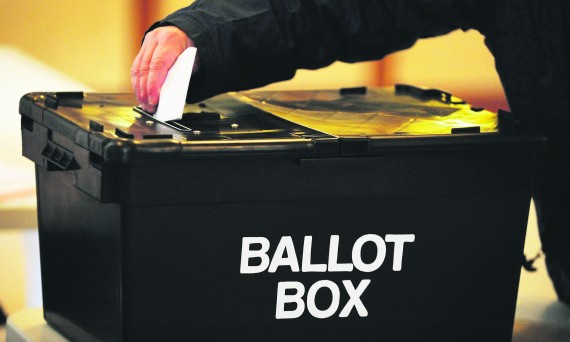 By Paul Jordan
18 Parties.
551 Candidates.
158 Seats.
393 people who'll be disappointed.
But how do we decide who's in and who's out? Can't we replace all this campaigning with a once-off episode of I'm a Celebrity? Who wouldn't want to see Enda Kenny and Gerry Adams share a hammock in the jungle? Instead we're stuck with posters of eerily-staring faces on the roadside and we get to write a few numbers on a sheet, fold it and put it in a big metal box. But how does it affect me?
And that's the question a lot of us are asking ourselves right now. I, like many of us in this college, will be voting for the first time in a general election on Friday February 26th and we need to know who we'll vote for. For me, my interest in politics was born on January 30th, at about half past 3, when I found out I'd be helping out with the coverage from the count centre for CRCFM, a local radio station in Mayo. Previous to that, I hadn't any interest or knowledge in politics.
Enda Kenny is seen as a God in Mayo and that was pretty much that as far as I could tell. But I know many people reading this article right now will be struggling to decide which way to vote. So how do you find out? Well the most probable outcome is that you'll ask your older family members about certain parties and politicians in your constituency but to save you the time and effort of doing so, here's what you'll be told; Fine Gael and Fianna Fáil are the only ones worth voting for, Labour will be obliterated in this election and Sinn Féin still have a few questions to answer in some people's eyes. If you were to vote for any other party, or god-forbid an independent, you'd just be wasting your vote.
But is that so? Because what matters most in a general election? Your vote. It's about what you feel are the important issues, whether it be housing, health, crime, social welfare, or repealing the 8th Amendment, and who you feel will look after them best in your constituency. A party candidate may have more say in the government compared to an independent but how many others in that party will have their say beforehand? Is it better to go with an independent who has less issues of their own to concentrate on and might be able to generate discussion about your topic?
Too many times in the past have we just picked someone because it's what the generation before us did and the generation before that did as well. However, back then there were clear differences between the parties, whether they were left-wing, or right-wing, or left-of-centre or whatever they wanted to call themselves. Words like neo-liberalist and capitalist could be assigned to parties and we understood what it meant and why they supported that style of politics.
Today, parties just go with what they feel will win them more seats in the next election, regardless of what they said in years previous. Even our Taoiseach changed his opinion on the same-sex marriage referendum from being against it a few years ago, to campaigning for it to be legalised last May. One has to wonder if his reasons for supporting the 'Yes' vote were for the benefit of others or for the benefit of his own vote.
One great side-effect from that referendum is that many young people like myself in Ireland registered specifically because that vote was taking place but they have carried on their interest and are looking forward to voting in a general election for the first time. And that means we now have a raft of students who can make life better for other students, not just now but in years to come.
We read so much about rent allowance and rent caps, and we mightn't pay too much heed to it, but one of the main problems for students is the availability of affordable accommodation. There are still some students looking for accommodation this semester who will soon resign themselves to the fact that they will have to live in a B&B or hostel for the remaining weeks of the college year, simply because they either can't find a house to live in, or because the ones that may be available are too expensive to live in in the first place.
The other main concern to students is the price of an education. Is third level education itself affordable enough for those who wish to go on to it? Or could more be done to bring down the prices of tuition and contribution fees? Add on to that the fact that once students graduate, they will be faced with picking one of two E's; employment or emigration.
Fine Gael are promoting their campaign of a "strong economy" to "keep the recovery going", but is it all going to happen a bit too late for even the first years who entered this college back in September? Will any of the parties have this country in a fit enough state to have jobs on the table for a newly graduated student or will they have to go further afield to get their first job?
Whatever way you vote on Friday, all I ask is that you take time out over the next few days to inform yourself about the candidates in your area and see who aligns best with your views and hopes for this country for the next five years. We really can make a difference if we use our vote, but the one thing we cannot do is complain about who does get elected if we let Friday go by without using it.