By: Mike Finnerty
UCD romped home to victory at Friday night's Battle Of The Bands held in Stables.
The UCD group, Greyface, won over their audience, and ultimately the judges, with their mix of Ghost/Dir En Grey shock rock aesthetic, ferocious screams mixed with rapped vocals, a dress-wearing bassist, and ferocious metal drumming.
Speaking in the green room, frontman "Shaye" lamented the fact the Dublin music scene is "watered-down" and wanted to give audiences something different.
After Friday night's win, the only way is up for the band that practice in a warehouse and cite Kanye West as a significant influence on their work.
Their win secured them a day in a professional recording studio.
The University of Limerick was represented by cult heroes The Slut Club, and Friday's night performance was a proof of concept that the trio is to the Limerick music scene what The Rapture was to the early 2000's New York scene.
Their performance was a joyous mix of tetchy energy, green spandex, plastic lobsters and fairy lights.
Bassist Aaron Lynch stated pre-show that their influences are as wide-ranging as David Bowie, King Gizzard And The Wizard Lizard, and Mac DeMarco.
He also stated that "we want to have the punk sensibility of the past but put our own mark on it. We want to have as much fun as possible".
When asked what the band's mission statement was, the reply was quick.
"Punk with a bit of our own swagger."
With any other band, that would sound like a laundry list of indie nonsense from people who get their musical opinions from Anthony Fantano.
The Slut Club can back up their words and were unlucky not to win.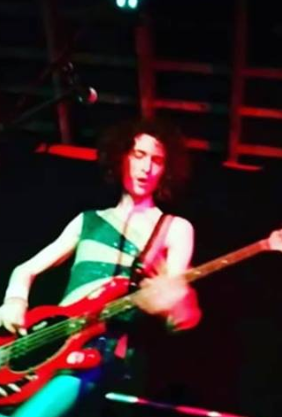 The University of Cork were represented by Pretty Happy, who were the last act of the night.
The band consists of three students, doing engineering, film studies, and English.
With that kind of mix and brainpower in the band, Pretty Happy sound like your atypical pretentious Top 40 indie band, but as was the through line of the night, they subverted expectations.
Their stage presence can be best described as the stage presence of Kyuss filtered through Talking Heads.
Pretty Happy arguably had the most technically dynamic musical set-up of the night (indeed, their sound check was meticulous in getting their Sonic Youth style guitar tone just right).
Their lead singer and bassist Arran Blake's Rik Mayall vocal stylings and Justin Chancellor bass playing abilities were indeed a sight to behold.
No surprise considering that Death Grips and The Dillinger Escape Plan were brought up in conversation when discussing stage presence.
All-in-all, it was a competitive night, all three bands could have won, but Greyface perhaps had that secret weapon in their arsenal:
Their ability to open up the pit and get the audience jumping.
Congratulations to the UL Music Society for a fantastic night, and well done to all involved.
You can watch a highlight video on the UL Music Society page here: https://www.facebook.com/ulmusicsoc/videos/837998456545870/?__xts__[0]=68.ARBGlaMMurMY0QhD_lSHiuBayHrX4WEWsvw8Ot0uH16d0sjhBNy6JSk5TnXIQlT4ZtozBn5HyWYb-qE006l3-SuBuviembaNaR2g1uB0I1dHvZ97b6j6H4w755G8mjzzMIcPN4tQPm7YCFhA5BtqlgZLtRj5Dol9xODXdQb8t1wGl0NCza7pkUIYfl7ykfuseHOsIzLLjRDKD3IfKw_QZ2swl0r2SBWSKYh2db8K7gzpq525TTQrZL4Rq21tKHmgVjWjw6EojUjXzPPsbqrBPMuWzS6vTeRIGh2r8pY5Bd3HBhRi30OIDO0BeKe2VdNPnOAj3nbRzq3pWGjSCceeKnj6HMx960vz&__tn__=-R