Name: John Dunne
Age: 24
Course: Law Plus
From: Glenmalure, County Wicklow
Why did you decide to run for this position?
Mainly because I want to give something back to the counselling service after they helped me turn my life around. I severely struggled with anxiety for a long time and attending counselling sessions in UL gave me the tools I needed to manage my mental health on a daily basis. They do amazing work but are legitimately under threat of collapse unless UL commits to paying our Assistant Psychologists. We lost 3 to paid positions in the HSE this year, and will likely lose them all over the next couple of years, unless they are paid a wage to keep them here. That's my main reason, but I'm also passionate about a number of other points which may be seen on my manifesto.
Have you always been involved with the SU?
I've no previous involvement in anything like this. It's the kind of thing I would of always liked to have done but felt incapable of doing. It's thanks to the counselling service that I feel confident enough to run, and their interests will be a primary focus of mine if elected.
In first year I was a pretty active member of the kayaking club, which was great fun and filled with great people. Unfortunately however, I went through a fairly low stage mentally, and cut off my involvement. I then felt too awkward to go back, because I didn't want people to ask what had happened. Back then I felt a sense of shame about personal struggles, that I have worked hard to overcome. In the last year and a half, I've taken up boxing in UL. It's a great sport that needs more recognition and funding.
In your opinion, what has the Students Union done successfully?
I think the SU does a great job in organising events. RAG week is always some craic.
I think they could improve on actual engagement with students. To be honest there seems to be a pretty wide disconnect between the general student population and what's going on in the SU. I think there needs to be more consultation with students before taking positions on certain issues. The 'smoking ban' for example is one area that I believe hasn't worked in any way, and hasn't the support of the majority of students, because the majority of students were never consulted.
Why do you feel this role is right for you?
Because I'm passionate about what I believe in. I'm a good communicator, I'm quite a reflective person and I take everyone's opinion on board. I'm in the final year of a law degree so I know how to work hard, and I really, really fucking care.
What would you like people to take away from your policies?
That I'm a candidate who wants to fix specific and practical issues, and won't make unrealistic promises just to get elected. I'm a man of my word, and will 100% stand by this manifesto if elected.
Do you think you have put forward a strong manifesto that is tailored to the majority of the student body? Why?
To the best of my ability, yes. A large proportion of students take drugs; I want to make sure they take them safely. A huge number of students, myself included, attend the counselling service; I want to protect it. For anyone in a club or society; I want to ensure a fair allocation of funding and equipment. 99% of us have sex in college; I want free STI checks. 49.5% of us risk pregnancy; I want the morning after pill available on campus. Not everyone finds it easy to get from the main building to Kemmy; I want a shuttle bus for students with disabilities. For everyone that rents; I want to protect you from dodgy landlords. For everyone that drives; I want to make sure the journey wasn't wasted by increasing notice of lecture cancellation.
What skills/qualities can you bring to the role?
I'm a patient but stubborn person. I know progress takes time, but that it also has to be chased. I'm a good listener, a hard worker and I won't stop fighting for the things I believe in.
What would you do differently to the sabbat before you?
I'd like to have a bit more focus on clubs and societies. I think physical fitness is one of the best ways to maintain mental health, so any club that encourages students to get fit should definitely be funded properly.
I think Roberta did a good job in some areas, such as maintaining 'Mental Health Mondays' and getting more music playing in the courtyard. She wasn't successful in getting free STI checks, but that's something I'd like to continue to push for.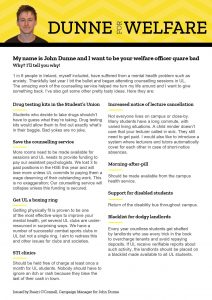 When you're not running for a sabbatical position, what do you do for fun?
I like getting outside and playing a bit of 5-a-side or going on adventures. I hang out with my mates and talk sh*t. I like having a few pints. I like to read and sometimes I write very sad poems.
What music do you listen to and who's your favourite band?
I've a fairly wide taste in music, I like some Hip-Hop and Electro, but Rock, Indie and Alternative have always been my main genres.
Nearly impossible question to answer to be honest so I'll just give a shout out to an Irish band that needs more attention. Go listen to Raglans. They're fucking class.
Favourite memory in UL?
It'd have to be the day my mate Conor Kavanagh sh*t out of a tree in Elm Park. It was really something
What type of friend are you on a night out i.e. the mom friend…?
I used to be the blackout drunk friend, but now I'm more the affectionate drunk, the one dancing very badly but enthusiastically, or the one who wants to get into deep conversations in the smoking area
What does John's campaign manager have to say about him?
Ruaidhri O Conaill: "Having known John for all my time in UL, I knew this was a campaign I could get behind. I agree strongly with his principles, and on a personal level knew he'd be the right man for job. He reminds of Michael Collins, in a few ways."