by Chloe O'Keeffe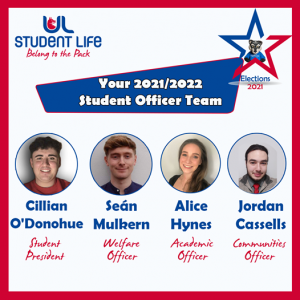 Cillian O'Donoghue, Seán Mulkern, Alice Hynes and Jordan Cassells will be taking over the roles of the sabbatical team for the 2021/22 academic year.
A big part of the manifestoes were based on the safe return to campus, as well as increased social media campaigns.
Fourth year Business and German student Cillian O'Donoghue will be taking over as Student Life President and is confident that his years behind the bar in the Stables will aid his transition to the role.
"UL means something different to every student, and I want to be a representative of all students," Cillian commented.
A large part of the incoming Sabbats manifesto was reliant on safety in UL, and what factors could make students feel safer, which was influenced by conversations he had with fellow students.
"I will demand increased CCTV and lighting across campus, ensure that all emergency blue SOS phones are intact at all times.
"Most importantly I will run workshops and social media campaigns to increase awareness of how both men and women can make everyone feel safe and at ease on campus," O'Donoghue's manifesto reads.
Other points on the Clare native's manifesto are to campaign for more water fountains across campus, additional funding to UL Éist, increased parking for UL, and the creation of a UL Mobile App, which will allow students to access everything from student timetables to booking study rooms in the library.
The inspiration came when O'Donoghue was on Erasmus, and he heard about similar ideas in other Universities.
Speaking to An Focal, O'Donoghue was hopeful that a return to campus is on the cards sooner rather than later.
Seán Mulkern, incoming Deputy President, Welfare Officer knew the role of Welfare Officer was the role for him through his experience of being a peer advisor in the Glucksman Library.
"I just really enjoyed that engagement to the student body and helping them solve problems- that's the best part of it," he commented. 
Similarly, Mulkern's manifesto was influenced by the safe return to campus, and ensuring students are comfortable in being in crowds once it's safe to do so. 
Points made in Mulkern's manifesto include campaigning for safe sex awareness, STI testing on campus, as well as drug harm and ensuring the welfare of all students.
"It's so important that we take a strong stance on harassment, sexual harassment and abuse," he said.
Period products are available in the Student Life building, as part of the Anytime of the Month campaign, and Mulkern plans to expand to across the whole campus.
The incoming Welfare Officer commended the work of outgoing Welfare Officer, Peadar Collins, and promised to continue the great work Peadar did. 
One such point is to make the University campus an official Darkness into Light venue and stated it would be the "perfect fundraiser" walking across the Living Bridge before the sun. 
"It would just show that we are all connected and all behind these big issues," Mulkern stated.
Of course, the safe return to campus is key in all the manifestoes, but there is no timeline from the government as to this just yet.
That said, the University of Limerick is lucky with the beautiful campus, and amazing facilities. 
Sean said though "maybe it's not ideal" there are still ways in which he will be able to encourage physical and mental health once he comes into office.
One point he touched on was the different walking trails across the University, which could be utilised. 
"Most of us have tried to get active during lockdown, so I want to keep that up," he remarked.
Alice Hynes will be taking up the role of Academic Officer, and her manifesto reads that she would like to change the bi-annual Module Satisfaction Surveys to 'Performance Reviews,' and encourage these to be used to highlight concerns and areas of improvements for teaching.
Other points in Hynes manifesto is to campaign for students who fail a module in 1st year to be allowed to progress in 2nd year, without doing a link-in; ensure the class of 19/20 and 20/21 get an official celebratory event; discourage negative marking; as well as encourage individual grading in the case of disputes over groupwork.
The second ever Communities Officer will be Jordan Cassells, and his main focus over the coming months is "Change, Growth, Representation."
In the hustings Cassells commented that "there is an appetite for change, and I think I can do that."
Cassells manifesto also states that there must be effective mechanisms for surveying, and that the representation of all student voices in vital.
Unfortunately, An Focal were unable to speak to Alice Hynes and Jordan Cassells prior to publication.
The four student representatives have also promised to continue on the projects done by the outgoing team such as UL Diversity Week, Drug Harm Reduction and Addictive Behaviour Workshops.