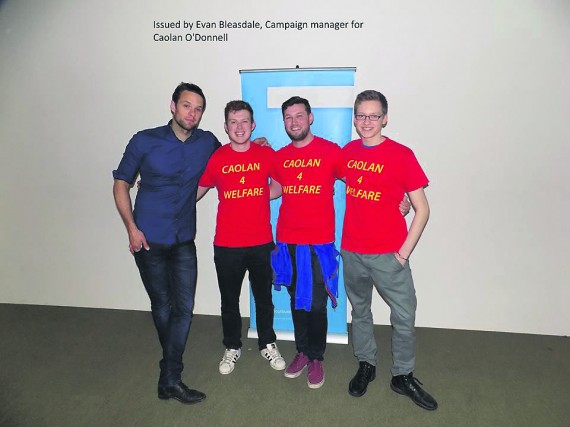 By Tomás Heneghan
Following his win in the 2016 Sabbatical elections earlier this month, incumbent University of Limerick Students' Union (ULSU) Welfare Officer, Caolan O'Donnell recently appeared on RTÉ's Claire Byrne Live to talk about mental health.
During the segment of the show which aimed to address the current mental health crisis in Ireland, Mr O'Donnell was invited to speak, following his campaign video on the issue going viral prior to his election.
Mr O'Donnell told the show: "As much as [the video] was about being elected, it wasn't all about that, this was about making a change.
"We had the pleasure of meeting Niall [Breslin] last week and it didn't matter who came in as the sabbaticals, all of us – there was five of us who ran for the position – all of us felt the same about mental health: that it's being ignored in Ireland."
He went on to tell the presenter, Claire Byrne, and her guests, which included Irish celebrity and mental health advocate, Niall Breslin, that the country needed a Minister for Mental Health.
He explained: "The fact that we don't have a Minister of Mental Health is an embarrassment, as in, it's clearly a massive, massive issue.
"131 students on average a year in Ireland die by suicide – How is that being ignored? As in, it's only students and organisations that are run by charities, by people themselves that are facing up to this issue.
He concluded: "There's nothing being mentioned about it in the Government. It angers me just thinking about it."
Mr O'Donnell, currently a 4th year Business student at UL, will take up his new position as DP Welfare Officer at ULSU during the summer, alongside incoming ULSU President, Sarah Dunphy and VP Academic Officer, Donal Foley. He will replace current Welfare Officer, Ciara Corcoran.