Life & Style Editor Michaela Keating spoke to Instagram health and fitness sensation Hazel Wallace AKA The Food Medic to talk all things fitspo!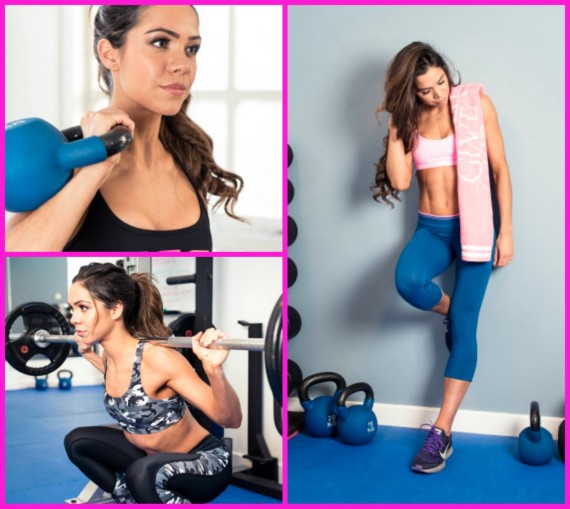 Since the app launched in September 2010, Instagram has become a global success, attracting three hundred million users monthly, with seventy five million users accessing the app on a daily basis. The photo sharing app is a platform for sharing different aspects of life including hobbies and interests. Health, fitness and clean eating accounts are fast becoming one of the most popular categories that users follow.
 As a daily user of the app, I admit that health, fitness and clean eating accounts appear constantly on my newsfeed whether it be a picture of a vegan recipe or a snippet of a workout video. These accounts are commonly known as 'Fitspo', as many people believe that following these accounts will keep them motivated to stay healthy and active.
So why do so many young people use Instagram to keep them motivated to stay healthy?
Hazel Wallace is one reason. The Irish medical student balances her hectic life studying medicine with sharing her exercise regime and diet on her Instagram account. Her blog 'The Food Medic' has an extensive following as she shares many of her own recipes and workouts.  With over thirty-one thousand followers, it's no surprise that this student was featured in the Irish Independent Online's 'Top Ten Irish Fitness Accounts to Follow on Instagram'.
For many of us, we use the nature of student life as an excuse for not exercising or eating healthily, and Hazel says it's all down to time management when it comes to maintaining a balanced lifestyle; "I keep a diary and log everything I need to do that day and week. I plan ahead in terms of booking allocated time to study, training sessions, meetings, and time prepping food. I wake up 30 minutes early everyday to answer emails and spend 30 minutes in the evening doing the same. I don't party very often, and if I do go out I will only have one drink because I don't like to be hungover the next day as it disrupts my productivity and leaves me feeling sluggish."
With all the health and fitness accounts out there, it's difficult to know which ones to follow and what ideas they promote. Hazel stresses that it is important to follow accounts with a positive attitude towards health and to avoid fad diets; "It is amazing to connect with like minded people and get recipe ideas and fitness tips. However, on the flip side there is a lot of huge 'fitness' accounts which promote unhealthy methods of losing weight such as detox diets and other diet fads. For beginners to the health and fitness world, it can be difficult to pick out the good advice from the vast amount of information that is available on instagram. In my advice, use instagram as a tool for inspiration and motivation but not a source of knowledge or health advice. "
So who is our fitpo's fitspo?
"I have so many! For me it is the girls who have transformed themselves from unfit to fit, as I can relate to that from personal experience and it encourages me that we are forever changing and growing! My favourite girls on instagram to follow for fitspiration are Ashley Horner (super woman in the flesh!), Alexandra Bring ( a Swedish fitness model and athelete), Carly Rowena (YouTube sensation and a super loveable personality!), and Lydia Millen (Fashion and Fitness packaged up perfectly!)."
It's not just the Irish fitness accounts that are proving successful on Instagram. With many people becoming health conscious in the last few years, and with the strong presence of vegan, gluten-free and dairy-free diets, food blogs are soaring in popularity, and Instagram is the perfect place to get an insight into these recipes.
Model Rozanna Purcell has over seventy-seven thousand followers on her personal account, and it is on this that she shares her recipes and food tips from her blog 'Natural Born Feeder'. Rozanna states herself that she has no qualifications in nutrition but her tried and tested recipes are proving to be very popular with her followers. The model's passion for healthy food inspired her to set up her blog, in which most of the recipes are vegan, gluten- free, dairy- free, fat-free , sugar-free , and sometimes all of the above. She posts regularly on her Instagram account with recipe ingredient lists. She is a great person to follow if you're looking into trying different diets or weening excess sugar or fat out of your diet.
There are many accounts on Instagram that inspire, motivate and educate young people today to lead a healthier life. Fitness and health accounts are beneficial for promoting a healthy body image. These accounts prove the positive way in which social media can be used and are proven to help those who want to become healthier.
Hazel's top 3 tips for getting into shape:
Write a shopping list, plan your meals and prep your lunch boxes.
Join a gym/running club/yoga class or whatever activity you're interested in trying out. Most clubs and gyms do student memberships!
Eat out less often and spend more time cooking at home and experimenting with healthy dishes. Invite your friends around and get them involved, the more support you have while embarking on your healthy journey, the better!
Check out Hazel's social media for more helpful guidelines for balanced lifestyle
Twitter: @thefoodmedic
Instagram: @thefoodmedic
Facebook Page: The Food Medic
Website: www.hazelwallace.co.uk