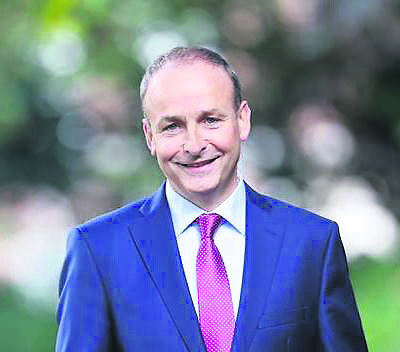 By Anna Cullen
The country is thoroughly looking forward to the upcoming arranged marriage between Enda Kenny and Micheál Martin.
The two leaders are set to wed sometime in the coming month, with the exact date still unknown. It is, however, understood the pair became engaged shortly after last month's General Election results became clear.
Former Tánaiste Joan Burton is rumoured to be the maid-of-honour, while Sinn Féin leader Gerry Adams is suspected of being best man. It is also understood Martin has patched things up with Gerry since their run-in at the RTE Leaders Debate hosted by the University of Limerick in early February. They are now considered to be close friends.
"He's my right hand man; I'd trust him with my life, that's why he's my best man. This wedding wouldn't be happening without him," stressed Martin.
Kenny already has his outfit picked out, going for the tropical look of a canary yellow gown while Martin is set to look dashing in his black tuxedo.
"I decided to not go for the typical white gown look. I saw recently that Kimberly Walsh had a waist-clenching yellow dress for her wedding. I just thought to myself: 'that's exactly what I want'," explained Kenny.
The pair will wed in a small church in Mayo with the reception to be held later in Áras an Uachtaráin.
President Higgins is said to be overjoyed to be hosting the event, ordering black truffles and champagne for the 1500 guests. He was overheard saying that he wants the night to "be the exact same as the Oscars".
The flowers will be provided by a well-known Irish florist who is being paid to work for 24 hours before the reception with no rest. The engaged couple have stressed they don't have time for laziness.
The guests for the night include Labour's Alan Kelly, founder of the Renua party, Lucinda Creighton and the Healy-Rae brothers.
It is also understood Kenny and Martin want it to be an "all Irish" affair with performances strictly from artists in this country. This is in order to pump money into the country, which seems to be their first order of business.
"I just simply cannot wait to get this shindig underway. I'm hoping to leave Tipperary at around eight the morning of the wedding and I'll be there waving them off in the limo when they go to Doonbeg. They're both great guys and I'm so happy for them," Kelly explained.
Imelda May will perform on the night alongside the Coronas and The Script. The performers' reps didn't care to comment on the wedding but gave the vibe that they are all ecstatic to perform at such an event.
Kenny and Martin are anxious but excited about their newly formed alliance and look forward to welcoming their baby in October; the Budget.
At present we remain in the dark as to whether or not Kenny will take the surname Martin or if he will stick with Kenny. However, recent polls conducted show that 66 percent of the vote went towards Kenny keeping his name and opting for a double-barred one instead, meaning he would become Mr Kenny-Martin.
Kenny has said he "admires Kim Kardashian-West for keeping her own name" and adding her husband's to it some time later.
After the reception, the pair plan to travel to Doonbeg for their honeymoon. Kenny and Martin are understood to be big golf-enthusiasts and are expected to join US businessman Donald Trump for a round and a few pints during their time away.
Speculation now surrounds the honeymoon plans, with some suggesting there might be a plan to oust Michael D. Higgins from the presidency, with Donald Trump to replace him and create his very own White House in the Phoenix Park to replace Áras an Uachtaráin.
Only time will tell if this is true or not. But for now, the country is anticipating a huge party to be underway in a couple of week's time.