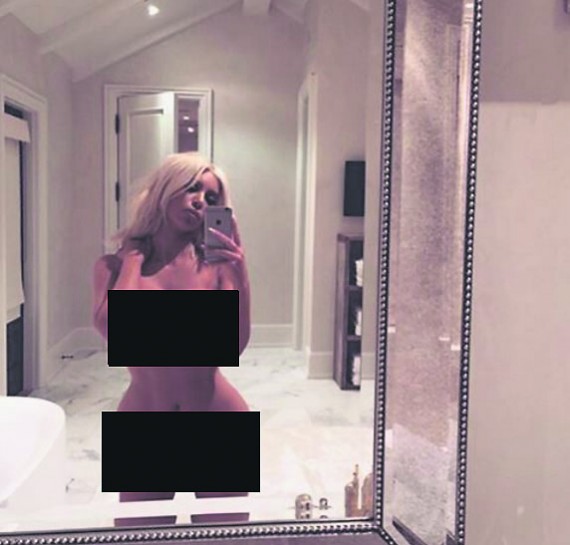 Eilis Walsh
Should we be even talking about this photo in the first place? I have been known to watch her television show when nothing has been on yet I know for a fact that I do not care that much what Kim Kardashian's naked body looks like, let alone what she's doing on a daily basis. Does anybody really? Whether we like it or not, Kim Kardashian and her extended family are embedded deeply into 21st century pop culture. They earn millions through working on a variety of projects: clothes, makeup, photoshoots, celebrity endorsements, modelling and even writing books (if we can say that). This photo was shared on Instagram at the start of the month.
The reason why I'm so fascinated by this nude selfie is the reaction it provoked. People were really divided on this photo and it definitely highlights the variety in opinions. On one hand, people were disgusted. We all know that Kim Kardashian came to the public eye due to a sex tape that went viral. Two well-known women reacted strongly to the photo in an overwhelmingly negative way. Actress Bette Midler, singer-songwriter and actress tweeted:
"Kim Kardashian tweeted a nude selfie today. If Kim wants us to see a part of her we've never seen, she's gonna have to swallow the camera"
19 year old actress Chloe Grace Moretz tweeted:
"I truly hope you realize how important setting are goals are for young women, teaching them we have so much more to offer than just our bodies"
This provokes an interesting conversation; is posting nude or almost nude pictures of yourself online where the public can see them a bad thing? In a world where it is largely men in power and young women are sexualized from a young age IS putting your body, a beautiful, fragile and vulnerable thing out into the world and subjecting it to opinion, appreciation and also the opportunity for intense scrutiny a good thing? Seeking validation is something you shouldn't do in my opinion. HARD as I know it is, we should try looking at our own bodies and tell ourselves that we ARE beautiful ourselves. Also important to know is that we don't actually need validation from the public, your boyfriend/girlfriend or anyone else. You should know that your body isn't all that you are, your personality DOES count, despite us humans living in a material world.
A case could definitely be made where Kim Kardashian likes the attention she receives every time she does something that could be seen as controversial or sensationalist. Perhaps she likes the uproar she can cause. There's definitely a strong possibility. Why else would she star in a reality TV show documenting so many aspects of her life?
However, I'm not going to disregard the side that says that Kim's selfie was to promote liberation, body positivity and perhaps she is comfortable in her own skin. As well as receiving negativity, the mother of two was also supported by members of the public and those in the public eye.
Kim shared an essay on social media discussing her selfie stating: "I will not live my life dictated by the issues you have with my sexuality". An interesting statement.
The reality star was supported by Emily Ratajkowsi (model), Ruby Rose (model/actress), Demi Lovato (singer/actress) and Miley Cyrus (actress/singer) no less. Ratajkowsi posted a nearly naked photo of herself in support, with the 24 year old model also tweeting her opinion in relation to comments Piers Morgan made where he said perhaps it was time Kim began to cover up.
"Someone should be reading my Lenny letter and taking a lesson in what it means to be a woman and sexual in our culture. Ahem. Love when a man comments on a woman's decision to post a nude photo. Her body, her career. Sexist bullsh*t"
Chloe Grace Moretz was called out and asked if she was "slut-shaming" Kim Kardashian. We do live in a society where slut-shaming women is a popular thing, much to our dismay. Do you think she was? I personally don't think so. Perhaps she was worried about what sort of message this image might construe to many young girls who look up to Kim?
Fair play to Kim for having the confidence to post such a revealing photo of herself to her millions of followers. Good on her for having a beautiful figure, despite having given birth to two children. But why post a selfie of your naked body if you're comfortable in your own skin? I'm still struggling to understand what exactly Kim Kardashian's aim was with this now infamous photo.