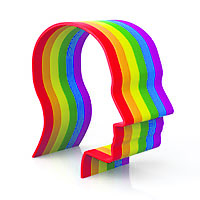 By Gearóid McCarthy
While the stigma on mental illness in Ireland has begun to diminish in recent years, it still seems as if as queer people are left behind in mental health services. This is catastrophic for a community in which mental health issues are experienced far more frequently than average.
A 2009 HSE report identified members of the LGBTQ community at a significantly elevated risk for depression, self-harm and substance abuse and dependency, and a shocking study by the Royal College of Surgeons found queer people in Ireland were seven times more likely to attempt suicide than cisgender heterosexuals.
In fighting the mental health crisis facing Ireland's queer community, it is vital that the country's health services are seen to be accommodating and inclusive. The same HSE report cited above found that LGBTQ individuals were reluctant to identify themselves as such when accessing mental health facilities, and this is a significant addition to the minority stress experienced by queer people. Transgender individuals are particularly marginalised in public health, with many having to travel great distances or spend large sums of money to receive quality healthcare.
A specific problem for the queer community is the experience of social isolation, especially for those based in remote or conservative areas. Feelings of disenfranchisement are unfortunately closely associated with the epidemic of depression, anxiety and substance misuse amongst LGBTQ people.
In spite of the legal progress on dismantling laws that discriminate against queer people, social discrimination remains rooted in Irish society and very little if anything has been done to address the problem of homophobic and transphobic bullying. Indeed, the latter is an issue of massive proportions for LGBTQ youth, with 50% of LGBTQ people surveyed by the HSE in 2009 stating that they had been bullied at school (compared to 16% of the general population).
Now that we have identified queer people as a group with a very high risk factor for mental illness, how should Ireland go about making life easier the country's queer community? It is crucial to establish a culture of inclusiveness and acceptance that embraces our diversity. While the University of Limerick must be commended for the excellent environment it provides for all of its students, it does not suffice.
Queer people need to know that their lives are valued by wider Irish society, and only with the decline of homophobic and transphobic bullying and the improvement of mental health services for LGBTQ people will we see any real improvement in living conditions for the Irish LGBTQ community.