Limerick students joined over 12,000 embittered protesters at the Raise the Roof rally in Dublin last Wednesday, calling for radical change in the housing sector.
A bus-load of students from Limerick Institute of Technology (LIT) and University of Limerick (UL) joined the protest, furious at extortionate rent prices.
Former LIT student and Moyross native Derek Byrnes said he was attending to help bring about "appropriate accommodation and appropriate prices."
"There are students travelling long distances to college every day and even some who are sleeping in their cars or on their mates' couches.
"This can't be going on," he said.
The group arrived at Remembrance Garden just after 11 o'clock, where they joined thousands more to begin the long march to Government Buildings.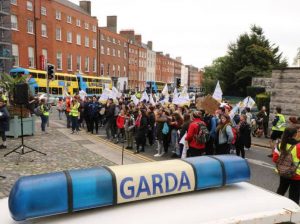 Sandra, a student at LIT said: "Today is a positive move.
"Even if not fighting for ourselves we are fighting for our co-students.
"I think they are going to listen to our voice because many students all over the country are now homeless."
The students marched down O'Connell Street, across the Liffey at Butt Bridge and onto Molesworth Street, where speakers and union leaders addressed the crowd.
The Union of Students in Ireland President Síona Cahill and Fr Peter McVerry joined Senator Francis Black and others in speaking out against the government's failing housing strategy.
Reacting to the event, fourth-year UL student Maxine Bramley said: "As a student in Limerick I've really been starting to see the effects of the housing crisis spreading and escalating across Ireland.
"The most basic right of having a stable roof over your head is becoming unaffordable and for many a luxury, so I was really glad to be able to take part at the raise the roof rally on Wednesday.
"I'm delighted that our efforts have really paid off and the government have finally been forced to accept the hard reality that is that this crisis is an emergency."
Co-Chair of the UL Socialists, James Pitman remarked on the huge politicisation of young people in Ireland, caused by recent housing protests and referendums.
Following the passing of the motion on Thursday, he said: "The government will essentially be admitting that it has not been making the great strides it claims to be making.
"A large part of the protest has been made up of students who have been dubbed the locked put generation.
"The time has come to be vocal about the issue and not to settle for concessions from the government.
Housing is a human right!"