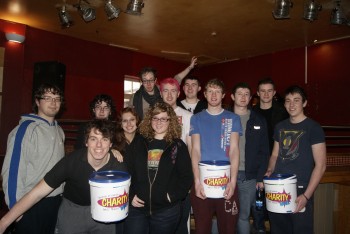 Sharon Whelton
Charity Week 2012 has, without a doubt, been one of the most successful College fundraising weeks Ireland has seen in recent years.
Events included the RAG society's Naked Mile, UL Fest, Bressie, the UV Party, the Farmer's Ball, Mountain Dew's brush surfing, the Mankini Challenge, and much more.
SU President Derek Daly says that students really seemed to enjoy the week.
"People seem to have had a good time, although some are taking it to the extreme which obviously we don't condone. We've been working with the Gardaí and the only place so far we've received complaints from is College Court. The residents are mainly concerned about the amount of littering," he said.
"Apart from this, everyone's having great fun in the SU Courtyard and we're raising lots of money. You can see that the bucket in the SU reception has a lot more money in it than last year already. The highlight for me, even though residents don't like it, would have to be the Nearly Naked Mile organised by UL's RAG society. It was really creative and got people using their imaginations. It raised about €250 – 300 for charity", he added.
Students who partook in the weeks events include second year Business and HR student Tríona O'Sullivan.
"It's going well, there seems to be a buzz a about campus more during the day and students are giving to charity. We did the Nearly Naked Cowboys on Monday and raised over €210 in an hour and a half", she said.
Another student pleased with events is third year MMPT Turlough O'Shea.
"I'm finding it fun, although it does seem quieter around than other years for some reason. The highlight for me would have to be the five – a – side football", he said.
While final year Journalism student Jason Kennedy has also lauded the week as a great success.
"I think the ULSU ENTS team did a great job for the budget they had, and I think a lot of praise has to go to Keith Quinlan. Every time I saw him this week he was always busy but always had a smile on his face and was willing to talk to students. Everyone seemed to have a great time, I hope they raise a lot of money for charity".
Despite the Student's Union receiving complaints only from College Court residents, and despite the fact that no students were arrested for the entirety of the week, the SU did receive some unfairly negative media attention.
The Sun ran a story about one member of RAG society's Nearly Naked Mile event. The newspaper published a picture of the student who was wearing only paint and two strategically placed party hats, and failed to mention that he was only doing so in the name of charity; with "you don't look stupid fighting cancer" written on his back.
"It's clearly party time for students, as this cheeky chap shows by peeling off during Limerick's rag week," the article read. There was no mention of the fundraising event or the funds raised by the individual in question. The article also falsely called the week 'RAG Week' instead of 'Charity Week, the correct title of the week's festivities. Online news site, Thomond Student Times, have released a petition to boycott The Sun on campus in UL.
Limerick radio station Live 95 FM reported on the damage in College Court, but failed to properly quote SU President Derek Daly.
"They rang me at 9.15 [Wednesday] morning, and I said that I was in a meeting but would contact them later. After, I heard that they misquoted me saying that I would not talk to them and was 'unavailable for comment' and had apparently 'gone to ground'. I will be lodging a complaint with the Press Ombudsman," he said. ULSU Communications Officer, Kelly O'Brien, also voiced concerns over this incident. "I think it's an absolute disgrace that the local media attempted to discredit what has been an amazingly successful week", she admonished. "It seems that they are just grasping at straws here in the hopes of capitalising on a sensational story. Any media outlet with one shred of journalistic integrity would have focused on the amount of money raised for charities such as Pieta House and commented on the dedication of our student volunteers. But no, it seems the local media cares more about student-bashing than it does about local worthy causes."  She also went on to state "I think Derek was dead right to hang up on Live 95fm. He has been the brunt of unfounded comments and I'm proud of him for sticking to his guns, what they said about him was disgraceful".
The Limerick Leader also ran a story about College Court, apparently founded on the complaints of permanent residents in the area, reporting trees being uprooted and wheelie bins being turned over in a night of "mayhem".
The money raised by this year's Charity Week will go to four charities – TLC4CF, Pieta House, The Brothers of Charity and Rape Crisis Mid-West. Last year's Charity week raised €12,000, and, though the count was still underway at time of print, it seems the ULSU has exceeded this figure for 2012.