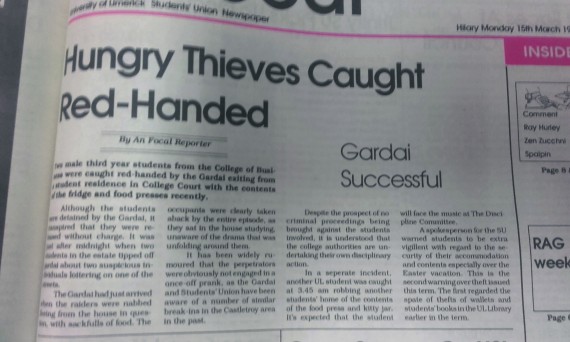 By Eilís Walsh
I wasn't even alive when this article was published. This fortnight we're looking back at an article from March, 1993. This seems apt as we are currently in the month of March ourselves. The piece's title caught my eye "Hungry Thieves Caught Red-Handed". The article discusses an incident where two male Business students were apprehended after stealing bags of food from fridges and food presses. Multiple break ins had been reported in recent times and it seemed that the Gardai sussed out who it was.
Now we all know that students can get desperate at times, we're not by any means in the richer demographic of the population. Times can get tough, the struggle is indeed real. Most of students' diets consist of a mixture of pasta, pizza and a pint. Why? One of the main reasons is that you can buy pasta and sauce for the grand total of about €1.50. Most of us go broke on a regular basis. However, I would like to think that the students currently attending the university would stoop so low as to rob someone else's food, let alone break into people's houses.
In saying that, no one is going to deny that students can do really stupid things in relation to obtaining "freebies". And in fairness can you blame them? With extremely high student fees, students generally take advantage of free things because they can't afford it. So take for example when Supermacs visits the university, offering free Papa John's pizza if you sign up with your phone number, email address and name. You're going to do it. For many it means that you save even five euro because your lunch is sorted. A lot of people underestimate how expensive college can be. However, that's not to say that students don't do really silly things.
On more than one occasion I've observed students, "borrowing" glasses from either Scholars or The Stables and they never return. Some students like to collect a glass from different drinks; be it Fosters, Bulmers or Heineken. A label on a water tap in The Stables states that due to the fact that students fill their one litre water bottles on a regular basis rather than buy a new one (I totally understand why you would do that), the taps break.
I am not sure if there is a scheme put in place for students struggling in terms of buying food. As we all know, students avail of the grant, which is perfectly acceptable. Perhaps there should be? I am not sure what would inspire a student to go around stealing food from other people's houses. But it should make you wonder, how desperate do some students get?