Lost Boys are an Indie-Pop band consisting of Limerick natives Peadar Storey, Michael Meleady, Peter Corbett, and Patrick O'Donnell. Forming in the summer of 2018 and adding a member shortly after, the group have finally released their long-awaited debut EP titled "Honey Mustard".
I sat down (in a virtual sense) with Michael and Patrick to chat about their experience working on the EP through college, a global pandemic, and being apart from their band mates.
This band has been through a lot! They have most certainly learnt how to be a band separated by distance a long time before the word pandemic was part of our daily vernacular.
Three out of four attended the University of Limerick, while one was in University College Cork then moved to Dubai for a year, and now two out of four are in Limerick and two out of four in Cork.
"You've just kinda got to have your priorities straight and keep to a plan. Google calendar and stuff like that have your set meetings and practices set in stone," Michael claimed.
Luckily, a majority of the EP was finished before the world shut down, but the pandemic was undoubtedly an issue that wasn't going to stop these guys.
Patrick noted: "It's all about like if you have a shared collective vision like a pandemic isn't gonna stop you. You know, you find other ways."
From trips to Red Lake Studios in Laois (where the band's producer is located), to recording vocals in a wardrobe in Dubai, this EP was being released, period. And thank God for that.
"Honey Mustard" is an eclectic mix of tracks, ranging from hip-hop elements all the way to a lullaby. A four-course meal for your ears, but where the menu is a surprise, and every song is from a different take-out.
This EP has been a long time coming, with some of the tracks written even previous to the Lost Boys' conception.
Each song on "Honey Mustard" is so unique from the next one, it begs the question – where do these songs come from?
Michael and Peadar are usually the songwriters of the group, with the others adding their input as the song is in production.
Speaking about the song-writing process, Michael explained "I suppose most of the songs come from a real experience but then the whole story gets changed to make it a proper story, a more interesting story. So, they all definitely come from some sense of truth."
Both Lost Boys joked about how their voice notes app is such a huge part of their song- writing experience. Michael laughed saying that "my phone is full… probably over 200 memos."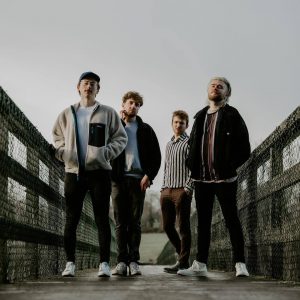 The lead single from the EP, "Karma Girl" produces the kind of heartache I didn't think you could feel from an indie-pop track.
The vocals hold a distinct pain that matches the tone of the song impeccably. I found this particularly apt towards the end of the song where vocal breaks are heavily featured adding an indescribable heart tugging element to this piece.
Speaking about the track, Michael said: "I think the coolest part about Karma is that it wasn't finished, we ended up just using the demo vocals, my demo vocals in the end, we never changed them. We recorded it in Patrick's student accommodation one day just to get the idea down and we ended up never changing them." Patrick added, "I think the majority of that EP actually came together in my bedroom in Castletroy."
Not surprisingly, "Sadie" has quickly become one of the band's most popular songs, released as a single in Lockdown 1.0 with an adorable accompanying music video. .
This particular song has been a long time in the works. Patrick confessed, "It was a song we had never even intended to release as a single at all, but it just felt like the timing was right."
The music video consists of a compilation of baby footage of the boys along with this song's addition of Limerick/Laois singer-songwriter Aoife Meade.
Aoife's breath-taking voice is a very welcome addition to this almost lullaby-like melody. Patrick describes the song as a "comfort song" adding that "having a female voice definitely helps it that way, it's almost soothing having these stacked harmonies".
Patrick and Michael both reminisced about recording this song in their free moments from class on the University of Limerick Campus. "It was just fun it was like our escape from college recording that song and then it ended up being really really good.  And it was kind of nice because of how like warm and homey the song is the fact it was recorded on our own campus added that special feeling to it like that personal link."
On the topic of UL, the guys had some advice for students trying to make music during the pandemic. "Don't let lockdown stop you from making your music that you want to make, the world is still in motion," Patrick said. Michael added, "Don't wait for like a spare moment you're gonna have to like force it, make time yourself if you wanna get a creative space going."
In the face of current restrictions, these Lost Boys are still exploring Neverland.
"We have some stuff in the works, it's funny like with the amount of different styles we've done I'm still surprised by like each new song can still sound so different and we have some songs in the work now that are so different to anything else we've released," Patrick said.
"So I think what we want to do now is just keep making better music and keep experimenting for a little bit and then maybe go back to older styles bring them back and give them a fresh coat of paint and just keep progressing musically."
Honey Mustard is now streaming on Spotify and Apple Music, and you can find Lost Boys on all social media platforms as @lostboys.ie. Make sure to head over to Youtube and catch their newly released live performance of "Hindsight".