Loud and Mighty? (ULRC looking to make a splash as regatta season fast approaches)
The University of Limerick Rowing Club as always are actively seeking new recruits, no experience necessary.
By ORLA DONNELLY 
ULRC has enjoyed previous success and greatness with novices and newcomers winning many national championships throughout the years.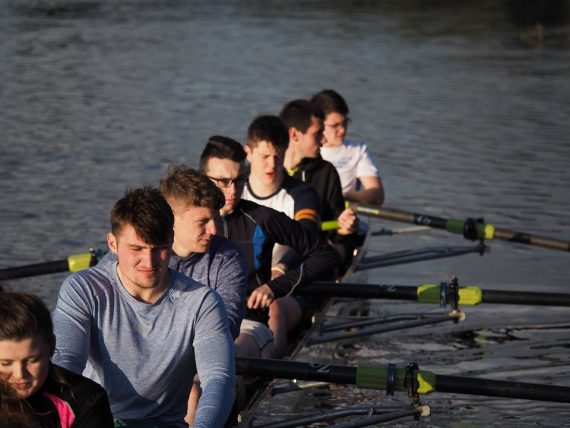 This coming season sets to be an interesting and exciting one as ULRC aims to compete across the pond at the London Metropolitan Regatta in June.  With the combination of the many new members who joined us in September, novices and rowers with international experience, the future of ULRC is looking bright.
Novices have come on leaps and bounds since joining ULRC and have shown promise early in their rowing careers, a special shout out to Cian Humphries, Mikey Fanning and Michael Wilson who won a clean sweep in the Novice 1k Provincial Indoor Rowing Championships held here at UL Irelands top sporting campus back in November.
With race and regatta season fast approaching amidst the impending semester, it is imperative that as athletes we look after our health for both our rowing aspirations and not forgetting our studies.
As a result, and in conjunction with a competition run by Fyffes, we were lucky enough to secure the use of Metrifit. This monitoring software allows athletes to log their day to day feelings regarding their training load. It also enables our coaches to monitor and assess athletes' overall health and predict any potential injuries or issues within our training programme before they arise.
With new research on sports psychology constantly being called into question it is clear that rowing closely relates and depends on ones psychological as well as physiological strength.
With competitions such as Intervarsity's coming up in April, Cork Regatta in May, London Metro in June and Irish Championships in July, and most importantly our very own Club Cup Regatta, it is essential that rowers overall wellbeing is catered for to have them at their peak performance for race day.
For both our competitive and more recreational rowers there are many extra-curricular activities organized by the club every year such as our climb to Carrantuohill, club BBQ's, movie nights, team building trips to Galway etc.
You might think that rowing is not for you or maybe you feel you wouldn't like rowing as a competitive sport, but rest assured there is something for everyone in ULRC.
Why not give coxing a try? What is coxing? Simply someone who is small, light and mighty who enjoys shouting and motivating others while steering a boat towards success.
If you are or know of anyone who would like to Cox for ULRC (no experience required) be sure to drop us a message at irow.ul@gmail.com or check us out on Facebook @ulrowing.
ULRC 5k Run series will also be making a return in February, A 5k run around UL's beautiful campus allowing people who wish to get & keep fit and those who wish to shed those winter pounds to get outdoors and have FUN. Our run series is open to everyone so spread the word!! €3 for students and staff members and €5 for members of the public.