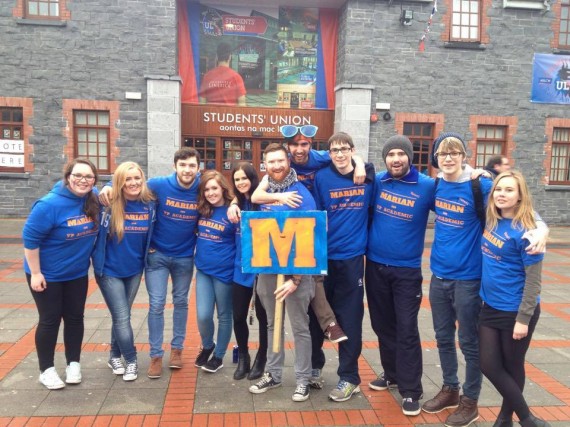 Marian O Donnell has been elected as the next University of Limerick Students Union Vice President/Academic Officer having run a strong campaign based on her knowledge and understanding of the Co-Op Office among many other things.
During a discussion on ULFM, Marian explained that she will be fighting an on-going battle in order to lower the cost of repeat exams for UL students:
"We have a cap on our grades but we also have compensatory fails which not a lot of the other colleges have so every college has its own unique system. We're one of the biggest colleges so you would think the bigger the college, the cheaper the repeats because of costs. It is something I feel very passionately about, I have been fortunate enough never to have repeats in college but I know a lot of people who do and I know people who have been forced to drop out of college because they couldn't afford to pay their repeats. Their parents say they don't trust them to pass them if they sat them again. It is a huge chunk of money, it is more Welfare I know but can you imagine how these people feel? It's crushing".
When asked if she feels like she could actually lower the cost Marian said:
"It is something that has already been worked on with Mike. It is coming through Students' Council  we had a brilliant discussion on it the last day at the Students' Council. I am not someone who just has one idea and I'm going to push this and push this and this is the only thing I'll accept, I have been saying to people this week, it is not just about reducing the repeats overall, then flatly you can reduce them as they accumulate. You could have a tiered system that goes up with repeats or down with repeats because you don't want to penalise someone who only has one. If I can't reduce the repeats I would love to bring in some sort of system where they can be paid for over the course of a year or you pay for them before you graduate or something like library fees. If you are paying 20 euro a month, that's a lot better than paying 170 euro in one swoop and it's just about the financial impacts on students and trying to make sure that the cost of the repeat fees doesn't affect their welfare and doesn't affect them progressing."
Marian was supported by elected SU President Colin Clarke during this interview:
"I think continuing on the work that the lads are already doing and we will be fighting with this. We will work with the University. We have to listen to students".
Speaking after the election results Marian said: "I am absolutely delighted to have been elected, words cannot express the gratitude I feel towards my campaign team and those that voted for me. I'm looking forward to the handover with Mike in the summer and will look to tackle some of the main points in my manifesto".
By Michelle Hogan