On the 17th of November, two societies from the Graduate Entry Medical School came together to organise a 5K Fun Run in aid of Limerick Suicide Watch. UL MedSoc teamed up with UL GIVE to create this event on the final day of MedWeek 2018. The focus of MedWeek this year was mental health and well-being, which made Limerick Suicide Watch a perfect fit as our feature charity to raise funds for throughout the week!
Limerick Suicide Watch is an amazing local charity whose aim is to help people in distress or those who may be contemplating suicide. It is made up of 60 trained volunteers who patrol the 7 bridges of Limerick City, 4 nights a week.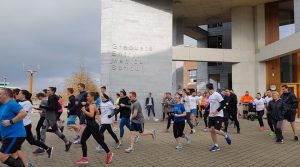 An outstanding over €950 was raised from the run, with over 100 students, staff and community members showing up to offer their support. This would not have been possible without the help of local businesses – the main sponsor being Mickey Martins pub. They offered a huge helping hand, and the event would not have been as successful without them! We also received sponsorship from other fantastic businesses, including Supervalu, Rashers pub, The Red Hen, Niall Colgan Hairdressing, Compu B, Nancy's Pub, The Strand, Garden World and Tadhg Kearney Jewellers. 
In conjunction with other events held throughout MedWeek 2018, we were able to donate €1350 to Limerick Suicide Watch! Thank you again to all of our sponsors, and we look forward to another successful MedWeek in 2019!