UL students staged a boycott against Aramark restaurants and cafes on-campus this Wednesday in response to their operations in the direct provision system.
Aramark Corporation, which supplies catering services to three Direct Provision centres, including centres UL students reside in, also runs seven restaurants and cafes in UL including cafes in the main building, in Kemmy Business School, PESS, University Concert Hall and the Millstream Courtyard.
The lunchtime protest and demonstration took place at Red Raisin from 12pm – 2pm.
UL Student Life (formerly UL Students' Union) is asking the UL community to join them in boycotting Aramark-run restaurants on campus.
In an email sent to students on Tuesday, UL Student Life representatives Ciara Jo-Hanlon (President), Lorcan O'Donnell (Welfare Officer) and Matthew Murphy (Academic Officer) said: "We cannot stand by and do nothing as the rights of asylum seekers and refugees are being infringed upon in the direct provision centres that Aramark run."
"We have heard of too many abhorrent incidences happening in these centres where Aramark staff are at fault, and we are angry at the senior management in UL who continue to support them."
"We stand in solidarity with asylum seekers and refugees around Ireland as we continue to raise awareness of the substandard, prison-like living conditions that they are residing in, and we direct our anger towards the company that is profiting from their imprisonment."
Protestors stood outside Starbucks (owned by Aramark) and held placards on Wednesday with phrases like; "University of the Year supports Inhumane Profiteering," "Aramark serves refugee imprisonment" and "UL profits from refugee oppression."
They held out leaflets and talked to passing students about Aramark's presence on campus and their role in direct provision.
UL Student Life Welfare Officer Lorcan O'Donnell was among protesters at Red Raisin on Wednesday.
He stressed that this was their first demonstration and there would be more next semester.
UL Student Life are hoping to meet with senior university staff and Aramark staff to discuss Aramark's presence on campus and their operations inside direct provision centres.
Mr O'Donnell said they would like to negotiate better conditions for those living inside direct provision, especially UL's own Sanctuary students.
Both students and staff in UL have been getting involved in the campaign, including University of Sanctuary scholarship recipients.
One University of Sanctuary scholarship recipient I spoke to, who wished to remain anonymous, said the service students receive from Aramark on campus is not the same as the service you receive in direct provision centres.
She said it was "ironic" that UL supported the company who were profiting off asylum seekers in direct provision while simultaneously offering scholarships to students like herself.
"The University should do something about Aramak. If they don't want them out they should do something about the service they provide to us in direct provision."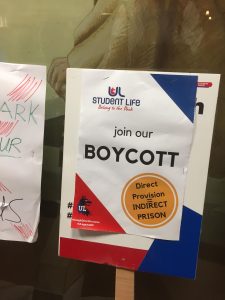 UL Sociology and Marketing tutor Finn Lanon also stopped by the protest.
Mr Lannon co-founded a community group called Every Child is Your Child along with University of Sanctuary student Donnah Vuma.
The group work to provide children in Direct Provision with the things they need for school (school bags, stationery etc.)
Mr Lannon said the direct provision system is "tremendously flawed and inherently problematic."
He stated that as a temporary measure the system appears OK but many asylum seekers stay in the system for "years and years."
He said he was eager to see protests from UL Student Life as the quality of life in Direct Provision systems is "shocking."
"Direct provision centres are often located in very remote areas with little access to work or education and a meagre weekly stipend. Meal times are set and if a meal is missed, there are no means to eat at other times."
"These are people who come to Ireland looking to integrate into our society, to bring their knowledge and culture and to contribute to the community, yet they are severely inhibited from doing so."
"Aramark were paid over €5 million in 2016 for their three Direct Provision centres. As such, the likes of Aramark are profiting from the suffering of hundreds of people, people who have had to flee their home countries for an array of difficult reasons."
"Knowledge of this needs to be spread and action needs to be taken in protest."
He praised UL Student Life for engaging with the topic: "I feel if more people knew of the turmoil that the company not only cause, but profit from, there would be a change in attitude towards them."
UL Student Life is asking students and staff to boycott Aramark food establishments on campus and support "ethically approved restaurants" instead.
"Give money towards the restaurants and shops on campus that don't infringe on the rights of asylum seekers including: Stables, Scholars, Paddocks, Sports Bar, the Pavillion, the Spar shop and the Lovely library ladies," they said.
UL Students campaign against direct provision and against Aramark's presence on campus has been receiving local and national news coverage since it was launched last month.
Students interested in taking part in the campaign can email UL Student Life Welfare Officer Lorcan O'Donnell at Lorcan.ODonnell@ul.ie