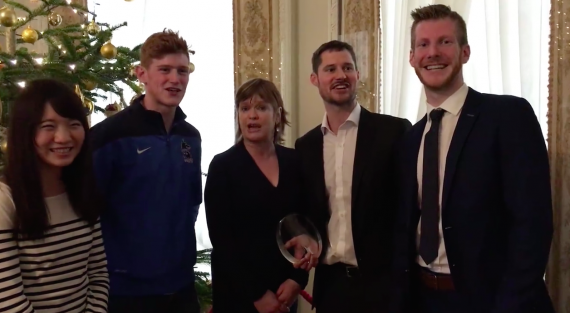 By Seamus Toomey
Unexpectedly the University of Limerick Students' Union staff met Teresa Mannion at an awards ceremony for Road Safety. As soon as the crowd was told who would be announcing the awards we erupted into laughter – Teresa's video was well known seemingly among everyone. Oddly enough Teresa didn't seem to be phased by all this commotion and remained calm and collected, in fact she took her viral fame in her stride.
She performed her duties and made a few more mentions of her viral fame, insisting that the message to stay safe still got out there despite people now largely making fun of her delivery of said message. People in the crowd were more interested in snapping photos of her than the award winners and when she had finished her duties and the ceremony was over immediately a queue to talk to her formed. Everyone had their phones out and took selfies and videos with her – people were learning off her two or three infamous lines and screaming them with her.
Quiet intelligently Teresa refused to do the lines herself, showing she knows to be somewhat cautious while in the public spotlight. This being said she was good humoured and obliged everyone who bothered her for a video, including us. UL shot straight up to her after the ceremony for a video – We got one with a nice Christmas tree in the background and with us all rattling her line off. Posted on several Facebook pages now the video has a couple of thousand views and we think the students of the college enjoyed Teresa's message for them (She wouldn't put on my wolves jacket though).
For the rest of the event I would glance over to see her talking about the different songs and ways people have messed with her little sound-bite or she'd be posing for even more pictures. I spoke with her briefly and asked about embracing the unwanted sudden fame.  While dealing with it well and lapping up the attention she made it clear that this was more necessity than choice, she could either get in on the joke or stay in hiding for weeks dodging ridicule. All I can say is good choice.
So thanks to Teresa for being a good sport, here at An Focal we all wish her a very merry Christmas and all the best in her years ahead as a reporter and we hope she knows that we shall forever hold a spot for her as our weather girl. It's unpaid though. We don't have any money. We're a college newspaper, sorry. But she can chill with us.
The video of Teresa and UL's team can be viewed here