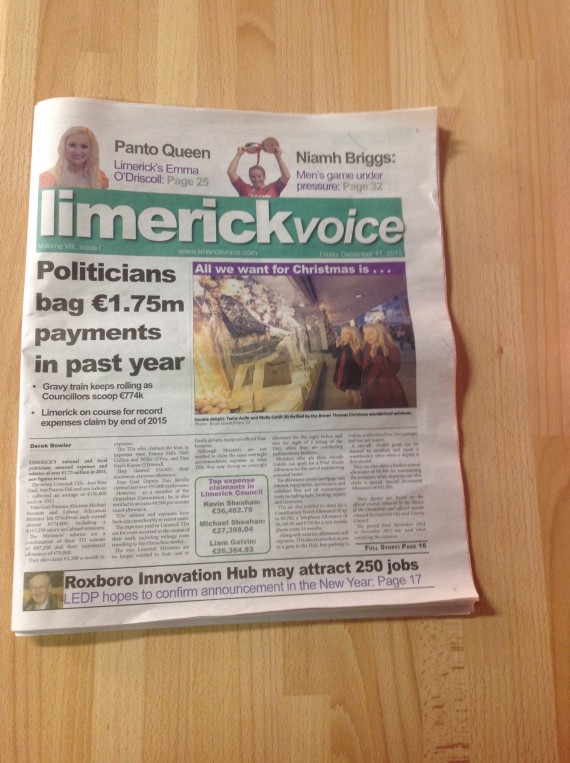 By Tomás Heneghan
Journalism students at the University of Limerick have today launched their annual edition of the Limerick Voice newspaper.
The newspaper is distributed throughout the coming weekend alongside all copies of the Limerick Leader, as well as being delivered to the regeneration areas of the city.
Attending the launch today were head of journalism at UL, Mary Dundon and Dean of the Faculty of Arts, Humanities and Social Sciences at the the university, Professor Tom Lodge.
Ms. Dundon praised the latest edition of the newspaper as the best produced to date. She also commended the work of the Editor, Derek Bowler and all the students involved with creating the newspaper.
Professor Lodge commented that the "whole newspaper looks terrific." He described the contents as "topical" and "exciting", saying the news stories in particular were "fresh".
Professor Lodge also said that the newspaper was a "eloquent and impressive showcase" of the talents of the student involved and that it was a "magnificent example of what can be done with limited resources."
Also speaking at the launch was Editor of this edition of the Limerick Voice, Derek Bowler, who paid tribute to all involved, through what he described as a "tough process". He also credited the university staff involved throughout the semester, including Mary Dundon, Fergal Quinn, Colin McGann, Kathryn Hayes and Keith Watterson.
In particular, Mr. Bowler thanked Ron Kirwan for his assistance with production of the newspaper and wished him well.
The Limerick Voice is produced on a once off annual basis by final year students of the Journalism and New Media undergraduate and the Graduate Diploma/Masters in Journalism programmes at the university and is a required component of their courses.
This year's edition of the Limerick Voice is the tenth annual newspaper from journalism students at the university and is distributed both within this weekend's Limerick Leader and within the Limerick regeneration areas of St. Mary's Park, Southill, Moyross and Ballinacurra Weston.