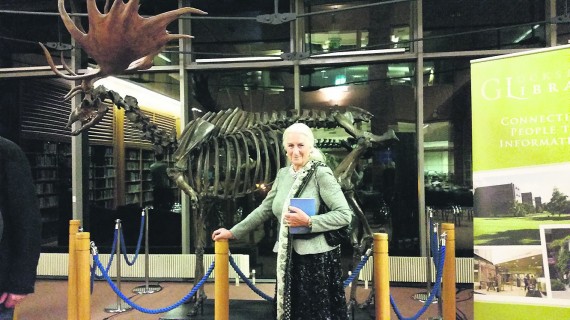 By Aisling O'Connor
"He's home," the Countess of Dunraven said fondly looking up at the the Irish Elk display in the library, whose family donated the elk to UL.
The elk, whose correct name is the megaloceros giganteus, was found by the 4th Lord Dunraven in the Bogs of Cullen, Co. Tipperary. It has made its home in Adare Manor, Bunratty Castle, Plassey House and now resides in the Glucksman Library.
It was returned this year after repairs, following exposure to frequent temperature issues which caused it to fall apart.
Currently fitted with heat sensors and supports to ensure it can stay at the Glucksman, the elk can be found in the reading room of the library. If the current location proves unsuitable, it will be moved elsewhere in the library.
The megaloceros giganteus was one of the largest deer to have ever lived. They, including the one now homed in UL, were often found in bogs lying on their backs as their balance was easily lost as they bent down to drink water.
Seeing as the elk appears on the university crest and is such a notable figure in UL, perhaps it should stand alongside Wolfie as a symbol of UL?