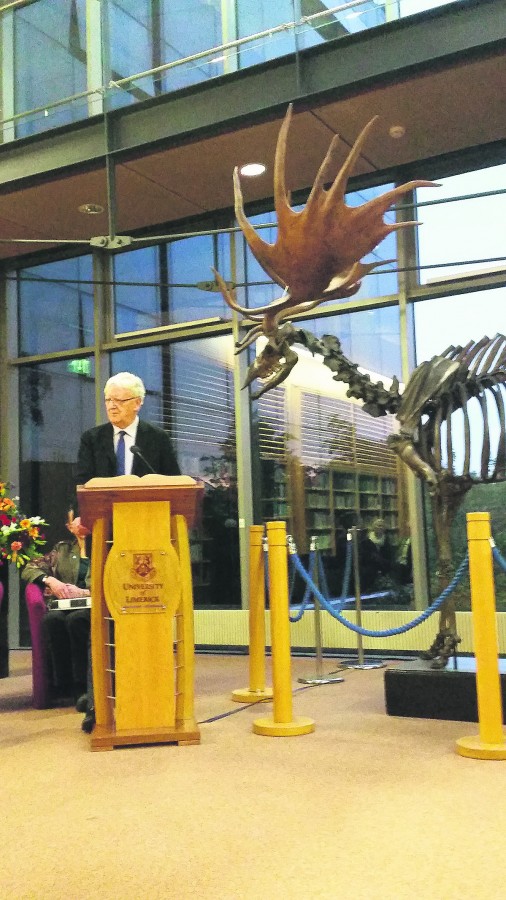 By Aisling O'Connor
Friday, October 16, 2015 saw a collection of rare first editions of the works of poet, William Butler Yeats launched in the Glucksman Library, marking UL as the home as one of the finest Yeats' collections in the country.
Copies of works such as The Tower, The Winding Stair and Wind Among the Reeds and Plays for an Irish Theatre were donated by Professor Michael Gilsenan with the aid of the American Ireland Fund.
"We don't have to be an anthropologist to know the gift is the most active thing…the receiver honours the giver," Professor Michael Gilsenan said.
Gilsenan detailed his affiliation with Yeats, discussing his introduction in his father's readings and falling into an "obsession" in university.
He referenced "key moments" of his life in which Yeats has made an appearance such as noticing a misquote in a show in New York, and how the line: "an aged man is but a paltry thing," (from Sailing to Byzantium) came to mind after cutting himself while shaving.
This donation is a promise to the future by preserving it for not only current scholars but future ones too, according to Gobnait O'Riordan, Director of the Library and Information Studies Division at UL.
The collection has been 17 years in the making and makes its home in the Glucksman Library's Special Collections Department, which was founded in 1998.
"You get to know not just the books, but the people who made such a special collection possible," said Ms O'Riordan.
Dr Tadgh Hefferman introduced award winning poet, Caitriona Ni Chleirchm who began with Yeats' poem The Song of Wandering Aengus before reading her own works from her collections Crithloinnir and An Bhrídeach Sí.
"Yeats enjoys crossing thresholds from one world into another…for all poets there is that joy of language."
The donation comes in the midst of the opening conference of the International Yeats Society (IYS) and Yeats2015, celebrating 150 years since the birth of the renowned writer.
Fifty scholars from 20 countries came to Limerick for the conference, hosted by UL, to experience arts events and the sharing of research.
This included the viewing of a production of one of Yeats' dance plays, a concert and dance performance by members of the Irish World Academy, a reading by Ní Chléirchín, and a tour of Yeats' famous tower, Thoor Ballylee, in Gort, after the conference.
The collection can be seen in the reading room of the library.