While UL provides a variety of opportunities and enriching classes, college can also be stressful.
Living independently and balancing college work can make sleeping enough and socializing difficult.
Many students experience mental health issues such as anxiety and depression, especially during exam time and assignment time.
College is complicated but managing your mental health doesn't need to be.
As another semester has started here are some of my tips on how you can manage your mental health in college this semester.
Take Time For Yourself: It is vital to find a balance between college and work.
It is equally important to balance friend time and alone time.
Spending time alone allows you to decompress and reflect on your emotions.
You can take care of your mental well-being and focus on what makes you stressed and how to cope with it. Take time out of your busy schedule, even it is just an hour, to spend time just for you.
The Shining (1980, Dir. Stanley Kubrick)
It Is Okay Not to Be Okay: Know and understand that we all have bad days and that is alright. Don't blame yourself for feeling down. Emotions are what make us human and being sad is normal. We must experience those bad days to appreciate the good ones. Just know it is okay to feel what you are feeling.
Speak up: If you are struggling, let those around you know. Let your roommates, family, friends, even your lecturers or tutors see that you are going through something. The more they know, the better they can help.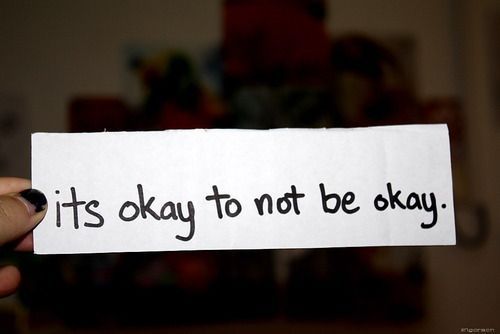 Photo via Huffington Post UK
Seek Help: Besides reaching out to friends and family, seeking professional help can make a huge difference. In UL I know there is a great counseling service in the main building is open for students to drop in and speak to them about your troubles. The more you talk, the better you will feel.
It may be the oldest Irish proverb in existence, but I am also a firm believer in the saying "A problem shared is a problem halved"
Photo via British Psychological Society
Practice Self-Care: Self-care involves caring for you and is a great resource to do on your own. Caring for your emotional and mental wellbeing is important during college.
Being mindful matters. You can practice self-care by going for a long walk, by going to the gym, getting your favourite food or just reading a book. Find yourself something you enjoy and treat yourself every day.
I cannot stress enough the importance of mental health as a mental health sufferer.
Mental health is not just crucial for college students, but everyone.
If you know someone who is struggling, help them. Check up on your friends. If you, yourself, are struggling, know you are not alone.
It's okay to need help.
You have so much worth.
There is so much help out there for you.