By: Nicky Anderson
'We need to recognise nightlife's contribution to the culture of this Island' – Senator Fintan Warfield to the Seanad,  24 January, 2019.
Give us the Night (GUTN) is an independent volunteer group of professionals within the music industry, who are campaigning to bring about a change to the licensing laws in Ireland, with particular regard to nightclubs.
Senator Warfield implored the Seanad chamber for 'justice and equality to come to this House to discuss licensing and how they can rethink this system and have a mature conversation.'
Warfield spoke to the Seanad following a meeting of over 350 people discussing this in The Sugar Club at a Give Us The Night public meeting on 21 January.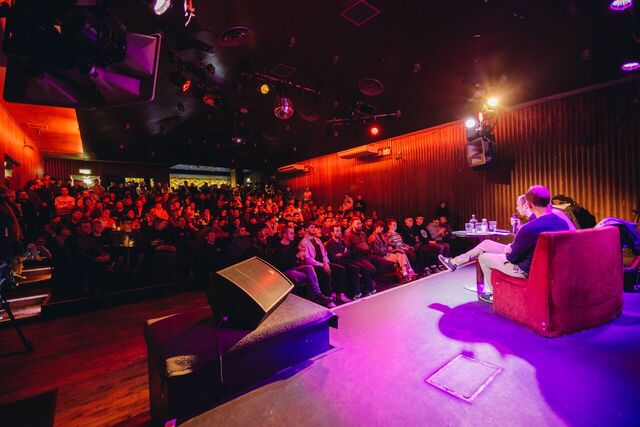 Four To The Floor: Photo of a Give Us The Night meeting on January 21. (Photo via @GiveUsTheNight twitter)
The thrust of the campaign is simple: The night has barely begun before it's over in Ireland and GIVE US THE NIGHT is the rallying cry of thousands of Irish as they campaign for changes in the law surrounding Irish nightlife.
Under the 2008 Intoxicating Liquor Act, all late bars and nightclubs in Ireland must cease operation at the early time of 2:30 am and the even earlier time of 1 am on Sundays.
Not only is this law fun-restricting, but it also deprives many businesses of significant revenue, and in turn depriving the Government themselves of it too.
Before the 2008 Intoxicating Liquor Act was introduced, venues could apply for an annual theatre license at a cost of €270 per year if they had music. This allowed them to sell alcohol until 3:30 am.
Now if a venue wants to open late, they must apply for a special exemption order (SEO) at a cost of €410 per night.
Sunil Sharpe, renowned DJ and spokesman for the GUTN campaign, says he believes we need an overhaul in our attitudes towards nightlife.
Sunil Sharpe is using his influence within the industry to instigate change. (Photo via IrishTimes.com)
Explaining on their website about how we are majorly behind our neighbours the UK and even further behind other major cities such as Amsterdam, Berlin, Paris, and New York, here are the main aims of the campaign:
To support, nurture and reframe the conversation around nightlife and the night-time economy in Ireland.
To highlight the economic value and societal benefits of a diverse and vibrant Irish night-time industry.
To contribute to the creation of jobs and sustainable indigenous businesses within the night-time industry, and to broaden employment opportunities for those operating in the creative arts.
To ensure that Ireland adopts a more progressive European approach to nightlife, that reflects the wide range of lifestyles and working hours here.
GUTN hope to welcome the establishment of a Night Mayor (Maor Oíche) in each major city – theoretically what this individual would do is overview the designated areas nighttime activities.
The Night Mayor would work alongside the Lord Mayor of that city, the city council, An Garda Síochána, venue operators, and event programmers to ensure a happy and safe night time experience for everyone.
They want the abolition of Special Exemption Orders – GUTN claim that the system for late bars and nightclubs has failed, with a current drop in exchequer revenue of roughly €5 million per annum since its price increase in 2008.
90,691 SEOs were granted nationally in 2007, while the state estimates that 37,500 were issued in 2017 – a loss for both nightlife and the Government.
GUTN aims to promote and create a happy and fair night-time economy that is seen in many other countries that have a commonly recognised timeframe of activity being 6 pm – 6 am.
The campaign gained momentum after the announcement of the closure of major Dublin nightclub District 8.
This is following closures of similar venues such as Hangar and The Wright Venue.
With both Hangar and District 8 being cleared to make space for 'apart-hotel' complexes.
The massively popular nightclub was host to both incredible Irish and international DJs over its years- including FISHER, Bicep and Ireland's latest phenomenon KETTAMA.
Situated on the ground floor of the Tivoli Theatre it was the nations most prestige dance venue.
Other clubs which have closed in the Greater Dublin area include Lillies Bordello off Grafton Street and Club 92 in Leopardstown.
With all these important venues closing you can't help but stop and wonder what the future holds for Irish nightlife – will clubs continue to close, will illegal raves become the norm or will GUTN be the heroes we need?
Who knows – but for now, while you can – keep happy dancing.
To find out more about the Give us The Night Campaign and follow their amazing work, check them out on:
Facebook: https://www.facebook.com/giveusthenight/
Website: http://www.giveusthenight.com/
Twitter: @GiveUsTheNight
Instagram: @giveusthenight