When Carbery announced that he was making the move from Leinster to Munster, it was common knowledge that the youngster was making the move to get more game time at out-half rather than coming off the bench for Johnny Sexton and only getting the starting job with Leinster if Sexton was injured. 
This reasoning was seen as accurate and sensible to the vast majority of rugby fans in Ireland and rugby journalists within the media. 
But, there were a small number of voices within rugby media that were adamant that Carbery had a bright future ahead with Leinster at the fullback position and that idea isn't very far fetched. 
Carbery had some world-class performances for Leinster in the 15 jersey despite Rob Kearney being in fantastic form at the time. 
These select voices saw Carbery as a god-like utility back that could fill in at 10 or 15 depending on injuries and at worst he'd come off the bench and finish the game.
Carbery's move to Munster however, would mark the beginning of the improper use and contamination of his potential according to these few voices. 
Although the above theory is not one I'd agree with personally and most of it has been debunked by Carbery excelling with Munster (injury aside). 
However the one element of this theory that I feel is yet to be fully debunked is Carbery at 15, and here's why…
Joey Carbery announced he was signing for Munster in the summer of 2018 while only having visited Limerick once when playing an away game for Clontarf. 
He told Newstalk's 'Off The Ball' that the decision to move was mutual and he seemed honest and agar about moving out from Johnny Sexton's shadow.
Despite these promising performances at fullback for Leinster, Carbery immediately made an impact for Munster in the 10 jersey until he suffered an injury at the 2019 Rugby World Cup which sidelined him for over a year. 
However, during Joey's absence, Munster added substantial talent to their out-half roster in the form of Ben Healy and Jack Crowley, while also having the relatively reliable JJ Hanrahan. 
Ben Healy in particular drew significant attention when he became a regular name on the Munster team sheet early last year, he started to rack up points off the tee, had an exceptional ability to kick for touch and territory as well as showcasing phenomenal leadership as a first-team out-half.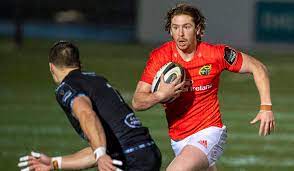 His performances throughout the year resulted in him being linked to Glasgow Warriors who were in need of a reliable 10, in addition to Healy's eligibility to play for Scotland. 
Although behind Healy in regards to selection, Jack Crowley also turned heads for his performances for the Irish U20's and the Munster A's in particular. 
With a solid boot off the tee as well as his sensational running ability, Crowley caught the attention of La Rochelle head coach and Munster legend Ronan O'Gara who propositioned the young 10 with a move to the title-challenging French side.
Healy and Crowley have since refused said offers resulting in them competing for the 10 jersey at Munster. 
Ben Healy put pen to paper on a one year deal some weeks ago, while Crowley remains under his academy contract. 
Munster rugby could be presented with a positioning dilemma as time goes on because of this. 
Ben Healy, in particular, is a talent that can and will have a long and fulfilling international career – since Healy has signed his contract we can only assume that he committed to fighting for that starting job at least for the time being. 
However, he could find himself in a situation similar to the one that Carbery found himself in and left his first professional side for greener pastures. 
So what can Munster do?
Healy comes off the bench: This doesn't seem like a long term solution due to the calibre of player that Healy is and the aspirations he surely has. Hypothetically, if Healy wants to be a world cup winning out-half he won't be satisfied wearing 22 for the first half of his career and as I said earlier, this is the exact same reason why Carbery left Leinster.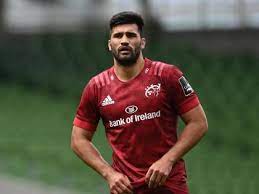 Move Carbery to 12 (or vice versa): This could work with time and patience but it's not a guarantee that the two out-halves would gel in those roles nor would they even agree to it considering Carbery left Leinster to play 10. It could also create question marks surrounding kicking responsibilities, but most of all that creates another dilemma in regards to Damian de Allende. The world cup winning centre is immovable at centre. It is Munster's priority to keep him for as long as possible and the best way to do that is to keep him happy by letting him play his preferred position.
Carbery to 15:Carbery came to Munster to play 10 but it's a lot more likely that Healy goes to 15 as Carbery has already proved his versatility and proficiency in the position at the European level. However, we can't forget Mike Haley who just recently signed a two-year deal. I'm guilty of thinking Haley is just a short term signing like Alby Mathewson but Haley has 50+ Munster caps along with 1 Irish cap. To make things more complicated, there are whispers of Simon Zebo returning to Munster and he has gotten a hell of a lot closer to winning a Champions Cup with Racing than Munster did while he was gone, so if he does return it could pose some further issues. 
A poll went up on the No Dogs, No Irish Instagram story a while ago. The poll read, "hypothetically speaking… is Carbery better at 10 or 15?" There wasn't a hidden meaning nor was it a trick question, It was a question that was once a popular discussion within rugby media. 
The results from the poll were 68% for 10 and 32% for 15, so it's clear from a fan's perspective that Carbery is considered 10 rather than anything else and fan opinions matter.
There is a Champions Cup-winning team in the Munster set up as we speak, but one of the trickiest parts is putting the right players in the right positions and Munster's options at fly-half will certainly provide a headache for the selectors.
This article originally appeared on No Dogs, No Irish. No Dogs, No Irish is a blog by UL student Ben Geary on a range of sports including rugby, golf, basketball and more. Click here to access the blog and click here to access the No Dogs, No Irish Instagram account