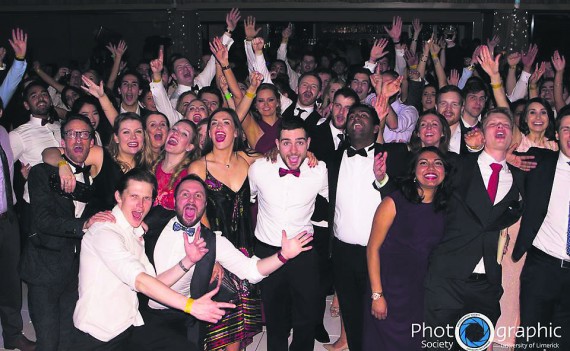 By UL Medical Society
On Saturday February 20th the UL Medical Society hosted its 9th annual Medical Ball at The Strand Hotel. This year marked one of the biggest yet for the event, attracting 440 guests and raising €6,700 for the Pediatric Oncology Fund at University Hospital Limerick.
The guests comprised mainly UL GEMS students and faculty, and the class was pleased to have 115 out of the 130 4th year students attending. This year's theme was Casino Royale, with the ballroom decked out in red, white, and black décor.
The evening started as usual with a champagne reception in the hotel's lobby, followed by an evening of dinner and dancing in the Shannon Suite.
Andrew Sheeran and Renee Neeson, violinists completing their Masters in Classical String performance at UL, provided music during the reception. Louise and Hatem of the UL Photography Society were also present to capture the event on camera, and took many outstanding photos of the evening.
This year HIYA Entertainment provided wonderful entertainment during dinner, and blackjack and roulette tables after the meal were a great hit with students and staff alike.
Prizes for the night included a one night stay at The Strand, one night at The Clarion Hotel, two nights at Breaffy House Resort Mayo, two rounds of golf at the Ballyneety Golf Club, a voucher for the Pavilion at UL, 10 UL Sport Class passes, a voucher for The Cornstore, a full day hike courtesy of UL Outdoor Pursuits Club, two free passes for the Omniplex Limerick Crescent Cinema, a voucher for two to Delish, and a wash, cut, and blowdry at Niall Colgan Hairdressing.
The UL Medical Society would also like to thank its sponsors for their generous donations, the funds from which will be going to the Pediatric Oncology Fund. Sponsors include MPS, MedMark, the Irish Medical Organization, AIB, and Ulster Bank.