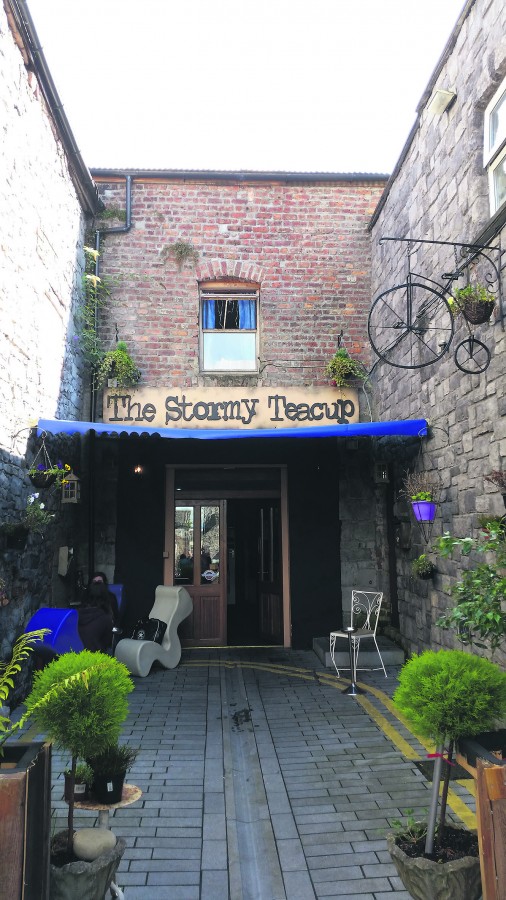 By Gearóid McCarthy
On Saturday, September 12th Limerick lost a cultural luminary when the Stormy Teacup closed its doors for the final time. The artisan tea and coffee shop affectionately known as Stormy was quite possibly the nucleus of the city's alternative scene, located on Foxes Bow in the city centre (next to what was Cellar Door, another artsy café which sadly closed less than a year ago). Its award-winning teas and quirky atmosphere attracted a unique clientele, but unfortunately it was not enough for Stormy to remain open.
To the very end, Stormy remained true to its independent spirit and its individual style gave it an enchanting quality. Whenever I climbed the stairs to the first floor, I felt as if I had been plunged into a brand new world. The colourful bookshelves and artworks provided a beautiful backdrop, as did the jars of tea organised behind the counter. The staff's manner was atypical yet hospitable, adding a more personal dimension to my experiences at Stormy that I would not have had at any other café.
For its final day of business, Stormy was as lively as it ever was. Regulars gathered to listen to live music, say a final goodbye and admire the distinctive crafts and neatly organised bookshelves. It was perhaps an emotional farewell me more so than many people, as Stormy lay at the centre of my universe for much of the past year. It was at the top of those ridiculously steep stairs where many fond memories were had.
Friendships were solidified and new acquaintances were made. It was an environment in which intellectual discussion thrived and creative ideas were spread. One of Stormy's distinguishing aspects was the relaxing music, which generated a very special aura. The memories I associate with Stormy aside, some of the finest days I had were spent simply soaking up the tranquil ambiance with a mug of tea or white hot chocolate in front of me.
It is dispiriting to see Stormy close for more reasons than my personal affinity for the place. As the lights decorating its lane off Foxes Bow are switched off, it seems as if the once rich alternative culture of Limerick is in decline. For a city that hopes to bid for European City of Culture in 2020, Limerick has a lot of explaining to do when the likes of the Stormy Teacup cannot stay open and more chain stores and franchises are moving into the city. How can we call ourselves a city of culture if we do not support the most creative cultural enterprises in our community?
Sadly, none of this idealism will bring Stormy back. Now there is nothing left to say but thank you. Thank you to Ruth Crean and Martins Punculis for their amazing contribution to Limerick. Thank you to all the people who donated to the crowdfunding page in the earliest beginnings of Stormy and made Ruth and Martins' idea possible. Lastly, thank you to everyone who supported the Stormy Teacup over the past year and a half, for you all made it the special place it was.