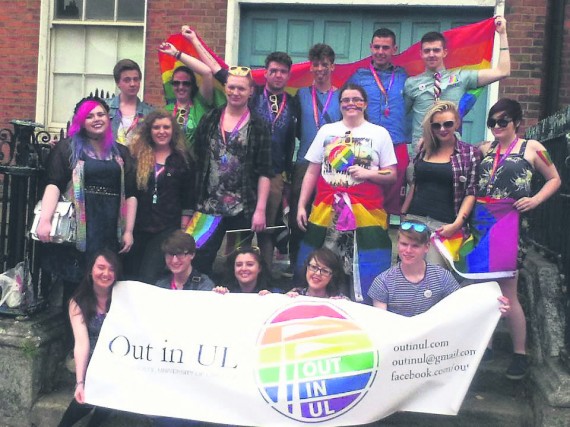 By Seamus Toomey
Out in UL went to this year's pride parade in Dublin where smiles, love and rainbows decorated the streets of Dublin on this special year.
Special why? Well we held a referendum on whether or not to allow equal rights to marriage for all (and something about presidential candidacy age) and the amazing thing is Catholic Ireland voted 'yes'.
Thomas Coneran, Out in UL's OCM said, "It's amazing to see how much the LGBT community have accomplished in the past year. It's a great feeling knowing that people are accepting me for who I am and accept me for choosing who I want to be with".
Even more historically important (ok perhaps not) UL's Students' Union took a stance on a referendum. This is something that has never happened before – as the Students' Union we have taken a neutral stance on every other referendum.
So why this one, I hear you ask? Well first of all let me thank you for asking such an intelligent and wonderfully worded question.
I like to think it's because the students of UL recognised the importance and necessity of this vote and it was by no means an easy task to convince the Students' Union.
Through a more than tense UGM, a heated debate over the administration side and some voting, UL for the first time ever were actively pushing people off the fence and encouraging them to vote for love.
Lorcan O'Donnell, Out in UL Health and Safety Officer (HSO) said: "For me, this was never a vote on whether we obtained the right to access marriage or not. It was a vote on whether the people of Ireland thought LGBTQ people deserved a second-class form of equality and a second-class form of citizenship simply because of the way we are born.
"Through the tireless work of Out in UL and hundreds of other organisations and individuals all over this country, we carried the message of love, acceptance and fairness to every corner of Ireland. As a result, I never thought I could be as proud of being a part of it, or of being Irish when the result came through that glorious day that was May 23rd 2015. We Made Grá The Law!"
Historical importance aside, Pride was wild this year and the LGBTQ+ community came from all corners of Ireland to Dublin for one massive session and the stories I've heard are not suitable for print – not even a little bit.
So what are Out in UL's official story of what they did in Pride this year? They represented UL's LGBTQ community up in Dublin and nothing else, definitely nothing to do with debauchery…