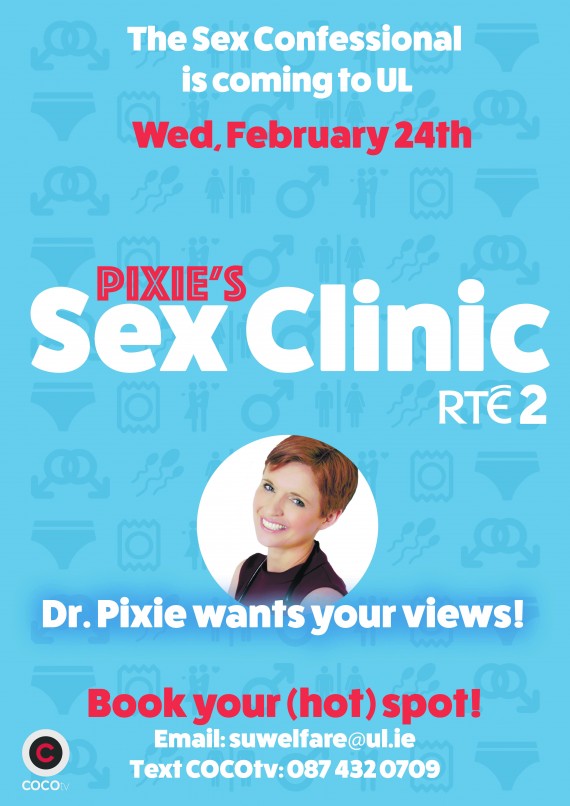 The world of sex and relationships can be a bit of a minefield, but it's about time we in Ireland opened up and 'Pixie's Sex Clinic' is here to do that!
COCO Television is producing a brand new series for RTE2 on Sex, Sexual Health, Behaviour and Education fronted by Dr. Pixie McKenna. Dr Pixie is on a mission to get Ireland in the know about 'nooky' and invites young people to have a frank discussion about the unspeakable deed: who does it, where, how…and all the bits in between. This is the ultimate sex talk – laid bare.
Our Sex Confessional booth is touring the country and coming to UL on WEDNESDAY FEBRUARY 24th – we would love to hear what you have to say about sex and sexual health in Ireland. If you come along, you will be filmed answering all types of fun questions. If you are feeling a little shy, just bring a mate and you can go in together. All participants are rewarded with a little gift along our theme of sex from the 'booth' for your honesty. Above all, this is a bit of fun and of course – who doesn't love free stuff?
To take part contact your WELFARE OFFICER on suwelfare@ul.ie; or text COCO TV on 087 432 0709