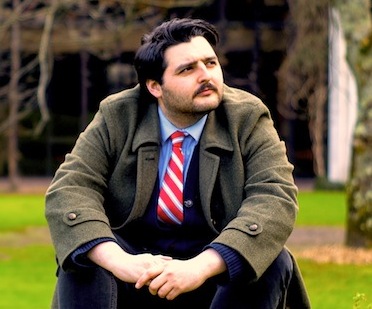 Hey Everyone,
My name is Kieran Foley and you may have seen one of my posters around college as I'm running for the position of PSU President. You can find my manifesto on my Facebook page but here I wish to give you a brief breakdown of what I wish to work on if elected as your PSU president.  By this I means that I am hoping for your feedback, suggestions and ideas.  So tell me;  how have you enjoyed your UL experience this year?  I bet it has been more intense and demanding than you have ever experienced at the undergraduate level!?  Do you think there is anything that the PSU could help you with either through a social outlet or possibly a welfare related support? In other words, what would you like me to do for you? I believe it's the PSU President´s role to provide a forum where all postgraduates can raise any issues they might have with each other and with the University Management, and I hope to do just that should I be elected.
The PSU's current president, Lilly, along with her team, have done some great work in getting the postgraduate community more involved in the social aspect of UL campus life, and in ensuring that postgrads are now represented on the Clubs & Societies executive (which allows for better communication and co-operation). I intend to build upon this and hope to introduce further improvements to the PSU, particularly with regard to getting Postgrads more involved  in campus life.
As I've already mentioned, my manifesto is online but here I'll take the opportunity to spell out my plans a little bit more. As PSU president, I would like to make postgraduate studies in UL a more social and inclusive experience. Ideas we have come up with include regular social events, and schemes, such as a postgraduate "buddy system," which would begin early in the academic year to help students to get to know their fellow postgrads before their workloads build-up too much. Isolation is something many postgraduate students experience, and is especially relevant to those who are coming from outside Limerick, and from abroad.
While I believe that it is important to provide for their social needs, I also intend to increase the support network for postgrad students. Building upon the success of the current ULSU welfare officer, I would like to introduce a similar student-led welfare team for postgrads. I passionately believe that the PSU is there to represent all postgrads; and over the course of the next year I plan to secure increased input from research postgraduates in particular. I would also like to reach out to postgraduate students all over campus through regular meetings with class & research reps, and by holding regular office hours in places like the Graduate medical school and the Kemmy Business School to ensure that all students have equal access to their PSU president.  I'd just like to end by saying that I don't have all the answers – no one is perfect –  but I do believe that I have some good ideas, the best intentions and a strong commitment to being attentive and responsive to the needs of UL's postgraduates.
If you'd like to read my full manifesto, please find me on Facebook (Kieran Foley #1 PSU President group) and if you have any questions, feedback or suggestions I would love to hear from you.  And of course, don't forget to vote!!!
All the best,
Kieran Foley