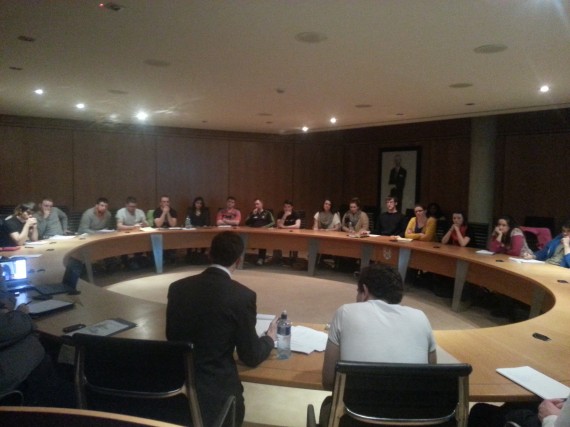 STUDENT Council last week welcomed Union of Students Ireland (U.S.I.) president Joe O'Connor to their second meeting of the spring semester to advocate the case for University of Limerick Students' Union re-joining the national student representative body.
U.S.I. is the only recognised national body for students in Ireland. In the republic they have twenty-four members, the most notable absentees being U.L., U.C.D., and D.C.U. The latter are however preparing for an imminent referendum on affiliating once more. This means at present they represent roughly 80% of the student population of the Republic of Ireland, 200,000 students, on issues such as fees, grants and other issues affecting all third level institute attendees.
Since U.L.'s departure from U.S.I. in 1991 there have been numerous discussions and a referendum on the subject of re-affiliation. None of these have ever resulted in our commitment to again becoming members but with the last referendum being held in 06/07 is it time for the students to re-evaluate that stance?
In a show of good faith, and in an attempt to showcase the best that they have to offer U.L., U.S.I. invited this year's sabbatical team to their national council in Athlone shortly before Christmas. In return President Joe O'Conner, formerly S.U. President of G.M.I.T., was invited to address student council. This showing progression on behalf of council seeing as a motion at last year's, now defunct, class rep council saw the decision being taken to not even permit U.S.I. onto campus to make their case.
Mr. O'Connor spoke of the benefits of improved national representation for our Union, being part of the campaigns run by U.S.I. and the networking opportunities for our sabbatical officers being able to engage with their counter-parts across the country.
His pitch was met with several tough queries from council members. Cost of course was a huge issue. With an annual membership fee of €5 per student and a projected additional cost of €2 per student, to cover travel, etc., for sabbatical officers to and from the meetings (held every 4-6 weeks) this would set the cost for U.L. at just under €100,000 per annum. The concern to students would be could the union cover this cost or rather would it come in the form of a student levy?
The balance to this cost, he offered, are the savings that U.L.S.U. will make in the terms of bulk buying of campaign materials and give-aways such as fresher packs in semester one. However as pointed out by ULSU DP/Welfare Officer Catríona Ní Dhonnchu, our costs for these types of campaign are largely offset by sponsorship, her recent Mental Health Week campaign costing in the
region of only €100. In addition the point was raised would the standardised approach to campaigns taken by U.S.I. be less effective than campaigns designed for U.L. students specifically or do we gain from being part of a national campaign strategy.
The question was posed later in the meeting how much benefit do U.L. gain from membership in terms of national representation. We are already represented nationally by both the university and our sabbatical team. It was pointed out by council member Sean Joyce, Departmental Rep for Sociology, that any progress made by U.S.I. automatically benefits U.L. students as any government policy change is across the board and rarely institution specific.
In terms of pro's, it was pointed out by members, there are obvious bonuses conferred unto us through membership with U.S.I. The campaign marketing and material would free up time for our sabbatical team to focus less on the necessity of both planning, and running, campaigns thus allowing them to spend more time on student issues within the university. This would allow them to focus on some of the smaller, in-house, but equally important issues whilst knowing that our interests were being represented at the same time by the elected members of U.S.I.
Mr. O'Connor in addition briefly mentioned a new deal with SIPTU, that would see the student body working with Ireland's largest trade-union on issues of national importance, and the introduction of a new student deals/savings card very similar to that of the highly succesful N.U.S. Card in the U.K.
There will be an open discussion on the prospect of holding a referendum to re-join U.S.I. Monday next at 6pm in the Glucksman Library boardroom. All students are invited, and encouraged, to attend. More information on U.S.I. can be found at www.usi.ie
By Mark Nother