BY: Enya McIntyre and Lisa Diviney
"It's a boys club"
As a gesture towards International Women's Day, the University of Limerick hosted a gallery
show exhibiting a selection of female portraitures from The National Self- Portrait Collection of
Ireland.
The exhibition, held in UL's very own, Bourn Vincent Gallery, was opened by none other than
Abigail O'Brien; mixed media artist and first female president of The Royal Hibernian Academy
of Arts.
In her opening speech, she addressed the age-old issue of gender imbalance in the artistic world.
She revealed in a shocking statistic that only 5% of the works in the Irish National Gallery are by
women.
'I think in art, because the world has been represented in a way from the male perspective for so
long it's important to show the women are stronger,' said 'Breaking the Mold' artist, Mary Kelly.
'Times they are changing', added Ms. O'Brien. The Royal Hibernian Academy is leading the way
in gender balance with 43% female workers to 57% male workers.
O'Brien, in her speech, pondered the question: "Are we equipping our younger women with the
skills needed to be heard?".
Mary Kelly echoed this notion as she challenges the concept of vulnerability in women to be a
strength rather than a weakness- a message she brings to light in her depiction of a broken jelly
bowl symbolizing that 'jelly-like' feeling associated with vulnerability.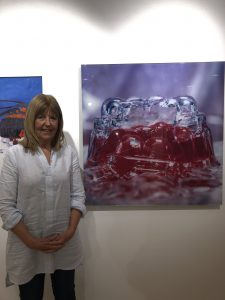 Although, Kelly admits breaking the bowl was unintentional she explains how it added to her
piece: "At first I thought that was a disaster but then I thought, that's life like there's times when you
break like literally and then the shell or exterior cracks open and then you have this very
vulnerable part inside and that's really what it was about".
Mary O'Dea explored a similar idea that a self-portrait is not always what you see on the outside,
her piece represents an internal self-portrait, and takes a look at what makes a person them.
'Who are you? You are genetically but you are also all the people who influence you. That is
where this piece came from.'
The contemporary installation consists of a number of threads stemming from the central body to scattered fragments of rocks symbolising the outer influences contributing to a person's life.
"There is fearlessness here" O'Brien added. Fearlessness is the main message being spread by
the women whose works are being shown in this collection. To not be afraid to show
vulnerabilities as a woman, no matter how much they are criticised.
Past UL student, Alice Maher, has since gone on to become a renowned Irish artist and
contributed her 2003 self portrait
"I get up in the morning to be an artist, but I live my life as a feminist", says past UL student and
renowned artist, Alice Maher.
-And that she does! The Repeal the 8th artist is not afraid to break away from norms set by men as
she proves in her fresh take on Renaissance art.
"I am the artist, the model and the creator of the work which is kind of the opposite of what you may have seen for instance in portraits of women in the past, such as the Renaissance."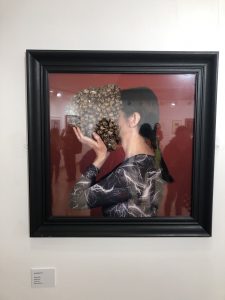 The collection boasted the works of 50 highly diverse, inspirational women, from many walks of
life.
The collection will be on the display in the Bourn Vincent Gallery, from March 8th to June 18th and is open weekdays to the general public for viewing.
O'Brien finished with the mantra: "Think equal, build smart and innovate change" – a concept we encourage you, both men and women, to think about today on International Women's Day.