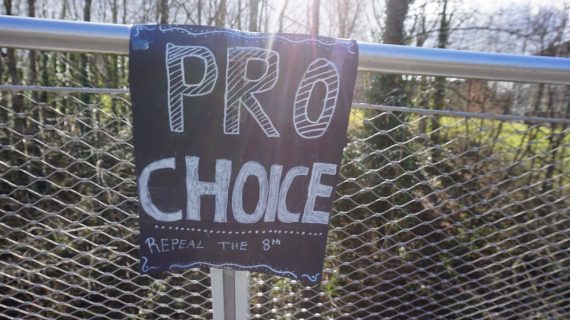 Rise and Repeal began at 12:12pm on March 8th, International Women's Day, with a minutes silence for the 12 women a day who fly to the UK for abortions.
The event was organized by the University of Limerick's Feminist Society.
"We are here at this bridge to support anyone who has gone to England for basic health care" said the feminist Society co-president Megan Thornton.
The event description stated that the students would be standing in solidarity with the 12+ pregnant people who every day travel to the UK and Europe to access basic healthcare and the 5+ pregnant people who potentially face a 14-year prison sentence for accessing abortion pills online.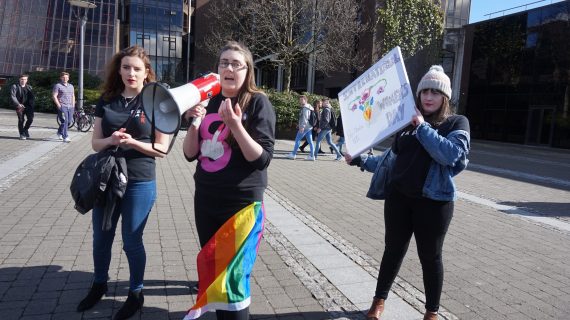 Co-president Edana Flynn said that everyone on campus needs to me made aware of Repeal, as the 8th amendment affects everyone.
"We cannot let this continue."
The feminist society estimates that around 50 students were in attendance.
"We are here on the bridge to support anyone who has gone to England for basic health care" Megan said at the event.
"We have the power of ordinary people… We have one chance."
The co-presidents said we don't know how long it would be until another chance to vote on the 8th amendment arose.
This comes after ULSU voted to be a pro-choice union at a recent AGM where the motion was passed with 171 votes in favour of taking a pro-choice stance with 71 in favour of ULSU remaining neutral.
The vote means that ULSU can actively campaign in favour of repealing the 8th amendment.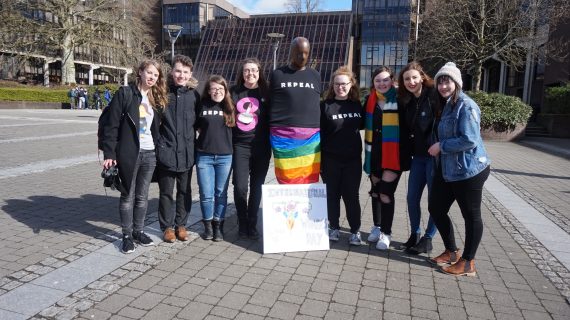 After the event, co-president Edana Flynn said that: the AGM was only the start of what should be happening on the UL campus in terms of repeal."
"We have a referendum coming up. We're one of the last universities taking a stance. You have to uphold that stance, and the stance was to actively campaign so that's what we're going to do. We are actively campaigning to support a repeal of the 8th amendment, and that's what the demonstration today was all about."
The Feminist Society says that they plan on being more present on campus, such as setting up registering to vote drives, providing canvassing training.
They plan on "putting our hearts and souls into getting the 8th amendment repealed and hopefully getting students informed and engaged on the issue as much as possible until then."
A referendum on the 8th amendment is due to be held in May.