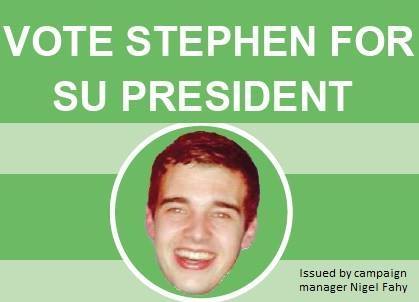 1. Why do you want to be ULSU president?
I want to become ULSU president, as I believe I can make a positive change throughout this university. I see this as the beginning of a long journey in our lives, so why not make it a great one. I want to be a trusting voice on behalf of the students here at UL and use that voice to challenge the tough issues students are faced with while in university. Becoming president is a huge responsibility, but I am ready for the challenge.
2. If elected, what would be your key aim for next year?
There are many things I will tackle if I become elected as ULSU president. Firstly I will be implementing a student specific off-campus accommodation website, which eliminates the need for door-to-door knocking and calling lists of landlords. Another issue I will be tackling is the fact that students, who fail or get an igrade in Christmas, should be able to repeat this in spring. I feel our summers should be saved for travel and experiences, not exams. Also a huge issue, which I feel very passionately about, is Mental Health. I will be focusing on providing students with more counseling services and creating events to raise awareness of Mental Health in today's world.
3. What qualities do you think are needed for the job and how have you shown these qualities in the past?
As I said in my campaign, I am a man of the people. I think for this job it is important to be able to listen, talk and engage with other students around campus. I have organized a charity soccer tournament three years running called "College Court Cup" which brought hundreds of students together in aid of different charities. I feel it's important to have students engaging in positive activities. Characteristics of a leader is Vision, Ability to motivate and social awareness; I feel I have these characteristics and I would love the chance to prove it if I was elected ULSU president.