It's not often that I find myself willingly going to a horror movie alone. As a movie blogger, I would try any type of movie but I used to draw the line at horrors.
 I always felt like horrors were better enjoyed with someone else there to share in the fear, but also they scared the bejaysus out of me and kept me up at night afterwards. 
However, Candyman was different. Once I knew it was written and produced by Jordan Peele, writer and director of Get Out and Us, I had to see it.
Peele's moviemaking has been the best in the last decade, in my opinion. His horrors are not just scary movies. They are social and political statements on things that are happening in the world around us. 
Candyman, directed by Nia DaCosta, takes on the unlawful and unprovoked killing of black men by white authority figures down through history. The message is so clear and strong that you almost forget that you are watching a horror. Almost…
Candyman is a sequel to the 1992 horror movie of the same name which starred Virginia Madsen as grad student Helen Lyle.
 Lyle was investigating the urban legend of the Candyman, a murderous spirit with a hook for a hand. If you say his name five times into a mirror, the Candyman will appear and kill you.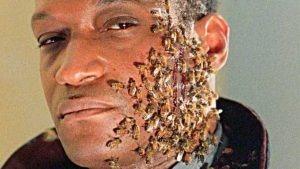 The most recent instalment in this horror franchise, which is a direct sequel to the 1992 film and disregards all subsequent Candyman movies, builds on this story.
 Yahya Abdul-Mateen II (Us, Aquaman) plays Anthony McCoy, a struggling artist who is lacking inspiration. He visits Cabrini Green, the Chicago Projects where the urban legend began. 
There, he meets a man named William Burke (Colam Domingo) who tells him the tale of the Candyman. McCoy becomes obsessed and has to make the killer his next piece. Death and destruction follow McCoy and his artwork. 
The artist begins hallucinating and seeing the Candyman wherever he goes. A final battle between the police and the Candyman is a brilliant piece of filmmaking but as I said already, the message being shown is very clear. Is Candyman the real villain, or is it the police shooting indiscriminately?
Abdul-Mateen II is brilliant in this as the tortured soul who becomes obsessed with the legend. Fans of the original Candyman will be happy to hear Helen Lyle's voice and see Tony Todd return as the original Candyman.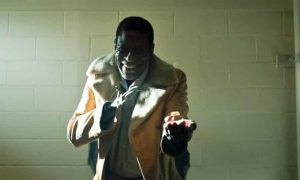 While I have talked about the social message behind the movie, this is a great horror/suspense movie in its own right. You will watch through your fingers as character after character begin to utter the name of the demon into a mirror and reap the rewards.
 Like any horror movie you will wonder can they be that stupid. You will also look into your own mirror that night and be very tempted to try it yourself. Please don't.
This could be a standalone movie, but I would recommend watching the original afterwards. Skip all the 'sequels' that came in between, but whatever you do, don't say his name…