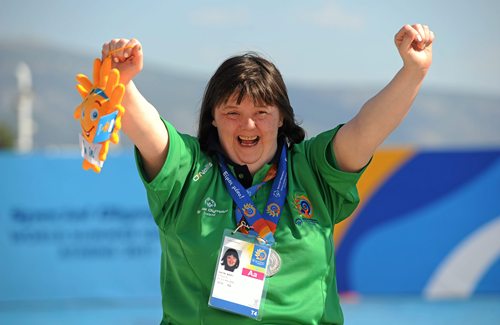 The University of Limerick is delighted to welcome the 2014 Special Olympics Ireland Games back to Limerick in June. The University will host the games over four days from Thursday 12th June to Sunday 15th June.
The official launch of Special Olympics Ireland Games took place at UL on December 4th with the support of well-known business, media and sports figures such as Paul O'Connell and David Wallace. Matt English, chief executive of Special Olympics Ireland said they were confident people all over the country will respond and ensure the games are a major success.
The Special Olympics Ireland Games were last hosted in Limerick in 2010 and is sure to be a highlight of Limerick City of Culture 2014. The Games will kick off with an opening ceremony on Thursday 12th June with sport competitions starting on Friday 13th June. As well as being the main residential centre, the UL will host the athletics, aquatics, basketball, football, bocce, gymnastics and kayaking competitions.
In what will be one of the largest and most prestigious sporting events to take place in Ireland this year, 1,500 Special Olympics athletes from throughout the island of Ireland will travel to Limerick. They will be accompanied by 500 coaches and official delegates as well as a contingent of over 3,000 family members. The Games will be supported by a team of 3,000 volunteers who have been, and will continue be, recruited from the Mid-West region over the next number of months.
Special Olympics competitions in each of the sports have been taking place over the past number of months at regional level, and athletes from each of the five regions have now qualified to compete at Irish level. For the next seven months these athletes will be busy training in their local clubs, supported by their volunteer coaches.
Eunice Kennedy Shriver established the Special Olympics in the 1950s and early 1960s, when she saw how unjustly and unfairly people with intellectual disabilities were treated. Through her vision, the organisation would grow into a global movement and change the lives of millions. Today 3 million athletes in more than 180 countries around the world benefit from being involved with the Special Olympics.
Special Olympics Ireland was founded in 1978. Over the past 36 years the organisation has grown significantly and today has 10,500 athletes participating in 15 sports in 397 clubs throughout the island of Ireland. They are supported by a network of more than 25,000 volunteers, making Special Olympics one of the largest voluntary organisations in Ireland.
UL President, Professor Don Barry welcomed the announcement in saying "The University of Limerick is delighted to have the Special Olympics Ireland Games back in Limerick in 2014. Almost four years ago during the 2010 Games the University of Limerick, our campus and our community buzzed with an excitement that has been unparalleled since and we very much look forward to it all again. We know the 2014 Special Olympics Ireland games will be bigger, better and an even greater success drawing on the huge volunteer base in Mid-West region."
"As Ireland's sporting campus we are always overjoyed to see committed, hard-working athletes coming to UL to use our facilities and so we are tremendously happy to see that so many Special Olympics athletes, will be here to participate in the 2014 Special Olympics Ireland Games." For further information about Special Olympics Ireland please visit their website here.
By Rachel Lyons