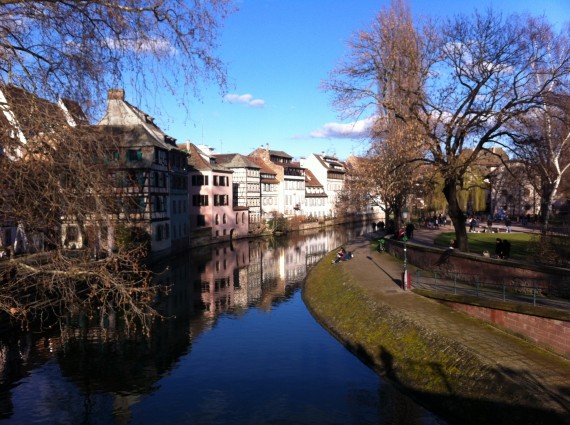 IN SPITE of its apparent unity, Europe proves to be quite a controversial continent in terms of travel. Major political disputes and differences may continue to appear among our neighbour nations, but European travel has to be one of the more common topics
that still divide opinion.
Even now, voyaging in Europe comes down to an inevitable argument. You could prefer the "pretty", "romantic" and warm side of the continent, championed by France, Spain and Italy. Failing that, you could choose the "ordered", "prosperous" and "modern"
destinations of Northern Europe, namely Germany and Scandinavia. The contrast between these two ideas of our continent couldn't be starker. In response, many travelers –me included- have aligned themselves with one particular vision of Europe.
As a teenager, I had decided that France would be my future home. For me, there was no better place in the world. That decision was absolute at the time. However, after spending six months in France through co-op and Erasmus, I was no longer quite so
zealous. I still loved the lifestyle of cycling, buying baguettes and drinking wine in cafés, but I was growing ever more curious about what lay to the north and east of France's borders. This curiosity resulted in an impromptu trip to Strasbourg, in the French
region of Alsace. Accompanied by another curious Irish friend, I wanted to see this city before venturing further to Germany.
Amidst our ideas of what defines France and Germany, Strasbourg seems to be some sort of bizarre hybrid. The Germans and the French both fought for control of the city for centuries, eventually resulting in a culture that borrowed elements from both worlds.
Today, Strasbourg seems to be at peace with its dual identity. Its diverse history led to the city becoming the official seat of the European Parliament and the Council of Europe, the European Court of Human Rights and a number of other key institutions.
The primary reason that many people visit Strasbourg is to see its European district. In fact, visiting the European Parliament buildings was the biggest attraction for my friend and me. On discovering it was closed on the day we arrived there, it was time to find something else. All we knew of Strasbourg was its political importance in Europe. What else could we do there?
Contrary to what my friend and I first thought, Strasbourg is not wholly reserved for diplomats, activists and politics junkies. In spite of its overseas image of a businesslike, glass-fronted metropolis of industry and international relations, Strasbourg's city centre is something quite different.
The centre is somewhat divided up by the River Ill, which creates the islands that make up Strasbourg. One of these quarters, Grande Île, was the first city centre in the world to be classified as a UNESCO heritage site. Once you're there, it's easy to see why – its medieval timber-frame houses, ramshackle roofs and cobbled streets combine the best of both the quaint and the grandiose.
In the heart of the city centre, you will find Strasbourg's immense cathedral. The Cathedrale Notre Dame de Strasbourg dominates the cityscape with its Gothic, almost skeletal frame. Religious or not, it's worth it just to pay a visit and marvel at its massive
interior. The cathedral also houses one of the most beautifully strange artefacts to ever be seen in a church – the Astronomical Clock. Adorned with clockwork cherubs, skeletons, zodiacal symbols and constellations, it seems to combine the seemingly
incompatible worlds of saints and star-signs.
While visiting the cathedral, be sure to climb the hundreds of steps to its very top for stunning views over Strasbourg's skyline, from sparkling modern skyscrapers, medieval houses and mountains in the distance.
When it comes to dining out and nightlife, the city maintains its sense of living in two worlds. Nestled in Strasbourg's winding streets, hearty German Brauhauser are on an equal par with more delicate French bistros. Both will offer regional specialties such as Flammekueche – a pizza-like dish with crème fraiche, cheese and bacon. If you're feeling brave, try the deceptively delicious choucroûte, sour cabbage served with potatoes, sausages and other meats.
If dining alfresco is more your thing, a picnic by the banks of the river is not only recommended – it is obligatory. In spite of its traditional and old-world atmosphere, Strasbourg's wide array of wine bars and craft beer pubs manage to balance the
youthfulness of the city with its authenticity.
Strasbourg has always been seen as the common ground between two very different concepts of Europe. It encapsulates elements of art and cuisine that seem very French, and yet preserves the steadfast, earthy nature of German traditions. It is a city that
seems both old and young, without having to try too hard. However, it's not quite right to call Strasbourg a clash of cultures – it's far more harmonious than that.
By Jane O'Faherty