Limerick Student Race Day – a day for suits and dresses, consuming a large quantity of alcohol and placing bets on all the wrong horses.. if we ever get there that is.
As probably most people who are reading this article are aware, tickets for Student Race Day 2020 initially went on sale on Thursday morning (7th November) at 12pm – however it wasn't long before the student population of Limerick went into meltdown.
They were hardly all sold out?
With only very few getting lucky, students not only across Limerick but across the country ripped their hair out thinking, with disbelief, that they had missed out on one of the main events of the year.
To many people's joy, a post was made by the page: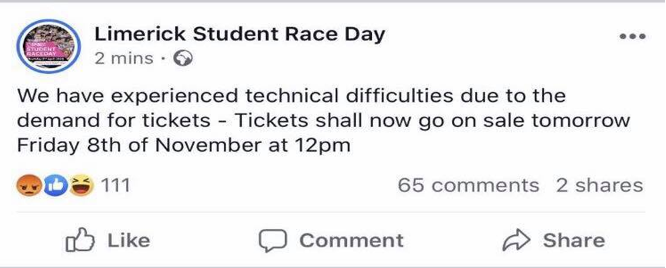 Most people were relieved, they had a second chance – but oh were they wrong.
Just when no one thought it was possible, it got worse.
When tickets went on sale today at 12pm, some again, were lucky and got tickets with ease.
Some even got more than what they bargained for, with rumours circulating one male accidentally walked away with 30 tickets and was charged around €915 for it. (Fair play to him for having that amount of money in his account though.)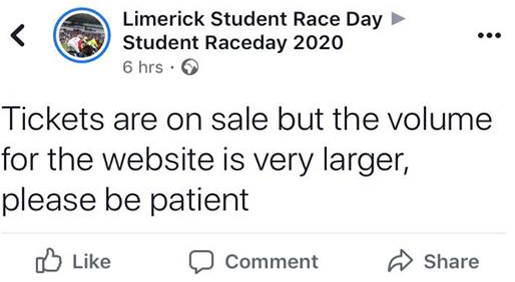 Third-year Mary I student Aisling told An Focal her story:
"Well I got my two tickets which was fine and the €61 they cost was taken from my account. However when my friend Jill was trying to get one ticket and got to the stage of entering her card details, the webpage declined the transaction so she tried to use my card but that was declined too. She decided to try once more and it was again declined but now my bank account is telling me there was two transactions for €30.50 and a transaction for €61 (my original two tickets) and my friend Jill is also down €30.50 but we have no tickets to show for it. How is this going to be fixed and how many other people has this happened too?"
While another male posted this image into a UL Freshers page, showing he had walked away with 11 tickets:

However, for the vast majority, after up to an hour of constantly refreshing the page, they were left with the heart-sinking message that the tickets were sold out.
At 3 o'clock it was announced that the event was sold out – but where were all the tickets?
With new rules this year (to prevent last year's scandal of ticket touting) that the name on your ticket had to make your ID and that you must have a valid student number, it looked like even Mr. Lucky with 30 tickets couldn't get any joy.
So how could an online system fail so badly?
It is not like this year was any different to others – if anything they should have been more prepared for the sheer volume of demand after learning from previous years.
Yet, instead of trying a different tactic, they again decided to try the website.
But not only did the site crash, it quite literally crumbled – not working at all for some and then taking hundreds of euros off others.
How does the old saying go – fool me once shame on you, fool me twice shame on me?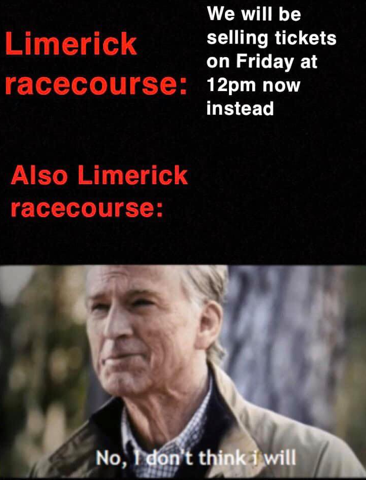 Speaking with students there was nothing but frustration and anger with many coming up with what seem to be obvious alternatives:
"It's Limerick Student Race Day – so all UL, Mary I and LIT students should get a chance to buy hard copies first instead of them being released to the public online. It's done that way in GMIT and NUIG and it works." – Third year UL Student Eoin
"The tickets should be sold on a better ticket platform because their website clearly can't hold the volume of people." – Third-year UL Student Ruby.
And in fairness they have a point – why should first-year NUIG student Bob from Roscommon, have just as fair of a chance of going to Limerick Student Race Day as a final year UL Student?
Could the answer to all of the event organisers problems – be in the form of old fashioned hard copy tickets?
Back to the old physical trade, €30.50 for a printed ticket, exchange done, problems averted.
If it's lost, stolen or ruined in the rain – tough that's on you.
If someone doesn't want to queue for the tickets then that's on them – but at least once the transaction is made the deal is done.
Like anything in the 21st century, there are now memes galore trolling the situation and the site – giving everyone some laughs through the infuriating experience.
And of course, the UL Freshers pages are now full of the usual hilarious (but not actually funny at all) posts about people 'selling' tickets and giving their friends numbers on the posts in hope they get an abundance of messages.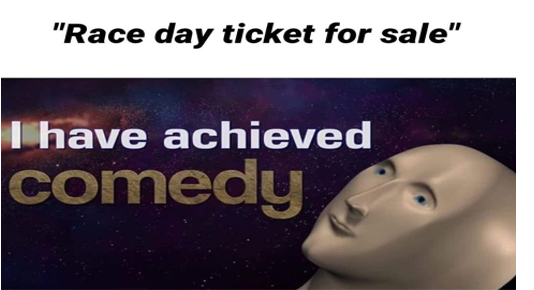 However, due to online trolling and a large quantity of posts – Student Race Day 2020 have deleted and disabled commenting on their posts. God help the poor work placement student who was given that task.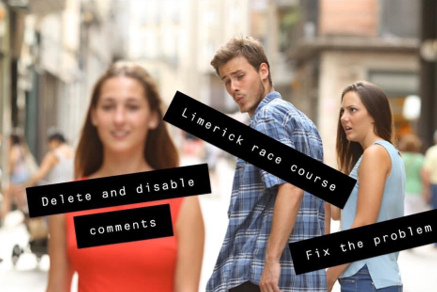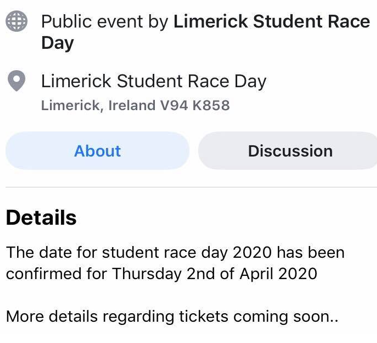 The above photo is the current description on the Facebook page on the night of November 8th.
For more reasons than one this clearly can't be the way it is going to be left and there are so many unanswered questions.
How long will it take for people to get their refunds? Will everyone have another chance at rebuying tickets? And if so are they really going to try the same website again?
Whatever they do decide to do – let's hope its third time a charm.