What can certain words of the Irish language tell us about our culture?
For writer Manchán Magan, answering this question has spurred his latest book 'Tree Dogs, Banshee Fingers and other Irish Words for Nature.'
Reuniting with publishing house Gill and illustrator Steve Doogan, it serves as a sequel to his bestselling 'Thirty Two Words for Field.'
The idea originated from a passion to preserve the rare words that grant us a unique insight into Ireland's heritage.  
"For years I was thinking I want to find a way of explaining all the things I see about the language that we don't talk about," said Magan. 
"We always talk about the same things, how it's beaten into you in school or how it has no use in the modern world. I thought God, there's so much more to be said." 
'Thirty Two Words' was originally considered an unassuming Irish language book and only a mere five thousand copies first going to print. 
It soon gathered momentum and became a bestseller with critics praising his accessible and engaging approach to examining the nuances of a language almost 3,000 years old.  
The success of Thirty Two Words could also be attributed to the recent lockdowns sparking the population to reunite with their natural environment.   
In the ten acres of oak wood in Westmeath where his straw bale house is situated,  Magan spent this newfound isolation saving seeds and extending his vegetable garden.
He surmises the recent interest in self-sufficiency may be rooted in our past. 
"We wanted food sovereignty again maybe because of some latent memory of the last time we had our big crisis when the potato failed."
"But also, we felt so anxious and uncertain, getting back into nature by either walking or swimming or just being out in nature by gardening really reassured us." 
He is fresh from completing a nationwide tour of his latest creative endeavour 'Arán & Im,' a bilingual installation involving preparing sourdough bread while speaking about the wonders of the Irish language.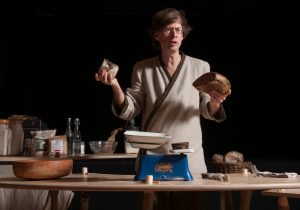 Married with his infectious enthusiasm for the language and dynamic approach to expressing it, the show sold out in every one of the thirty nine venues. 
Magan's passion for Irish could be considered inevitable due to his family lineage having an extensive connection with republicanism.     
His great-granduncle was The O'Rahilly, founder of the Irish Volunteers who was  killed in combat during the Easter Rising. 
His grandmother, political activist  Sighle Humphreys championed the language in his life from an early age. 
A prominent nationalist, her biography includes participating in the 1923 hunger strikes alongside fellow republican prisoners and maintaining a close link with the IRA during the eighties. 
As Magan grew older he considered her relationship with Irish came with political implications. 
"This beautiful language she was teaching me, for her it was almost against English," he explained. 
 "Irish was like a weapon of war to combat the English control."
Following school, Magan took it upon himself to travel extensively as chronicled in his books, documentaries and articles. 
Due to the new perspective travel offered, it was in the unexpected locations where he fell back in love with his mother tongue. 
"I realised every country have these minority cultures that are deeply connected to the sustainable landscape, ecology and the history and we have our own that's really unique."
He was dumbfounded by the clear parallels Irish shared with these distant lands.   
"There are so many similarities between the Irish language and culture and the Hindu and Sanskrit culture in India." 
The ties include both cultures sharing similar gods, laws, mythologies and even grammatical structures. 
Magan attributes this connection to both languages originating from Indo-European culture, originally stemming from a region now known as Turkey. 
"It's almost like if you dropped a pebble into a pond," he explained. "The ripples go out into the furthest reaches and you can still see them in Ireland and India." 
His passion towards Irish is interesting to contrast with the legions of students who developed a distaste towards Irish in school. 
While some attribute this to outdated teaching methods, Magan has his own theory on this resistance to learn.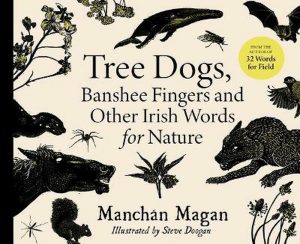 "We know that Irish wasn't taught anyway different to any other language, in fact often it's the same teacher you have for Irish as maths."
 "So someway in our brain we say it was the way Irish was taught in a backward and abusive way so we can't speak it. That's a lie, we teach Irish in the same way as every other subject."
Magan maintains this psychological block is down to the impact of the famine, where gaeilgeoirí were forced to abandon Irish and adopt English for to be employed in cities and abroad.  
"It was life or death. You either learned a new language or you died. We never address that."
Despite this deep rooted trauma, Irish continues to thrive.
On the language learning app Duolingo, Irish has over one million active learners and the vocabulary continues to grow as evidenced by new words being added to the dictionary every month.
Frequently inundated with emails from learners looking for tips on advancing their fluency, Magan helped develop the Trailblazery's nine week immersive language course. 
Scoil Scairte includes contributions from a host of inspiring speakers such as hip-hop trio Kneecap and Dr. Louis de Paor of NUIG. 
Within four hours of announcing the course, all two hundred and fifty places had sold out. 
The aim is to ignite a lifelong appreciation for learning in attendees and provide the tools for further, self-driven study. 
His emphasis on the unique aspects of Irish has won over his readers, enamoured by the magical, eccentric and colourful side of the language showcased in his works. 
"You're not going to come away at the end of the nine weeks with anything like fluent Irish, but you should be coming away really inspired."
"To teach a language in a good way would be to look at the words for nature, at the otherworld, and the magic realm and spirit," noted Magan.  "The positive elements."
Tree Dogs, Banshee Fingers and Other Irish Words for Nature by Mánchan Magan  published by Gill books is out now.