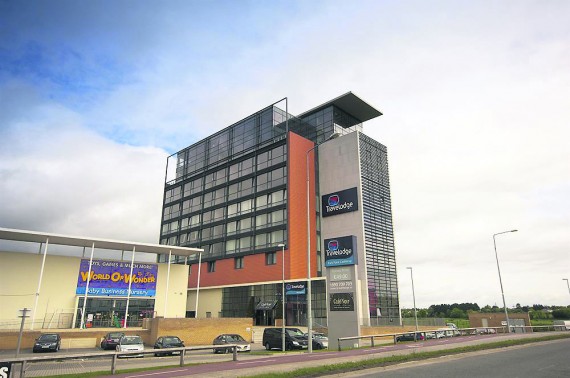 By Tomás Heneghan
The University of Limerick (UL) has announced it is to further expand its facilities with the €4.2m acquisition of the Park Point complex on Limerick's Dublin Road.
The 96,230 sq. ft. complex, purchased by UL for €4.18m, is currently occupied by a number of retail warehouse units, a café, and the Travel Lodge hotel.
Despite the announcement, the details of the planned use of the complex is not known and will be discussed further at a later time.
Announcing the purchase, the university said: "With its strategic location adjacent to the University of Limerick campus, the facility provides the opportunity for a range of additional requirements for a growing university."
President of the university, Professor Don Barry explained: "The University has expanded rapidly in the last 40 years and is now widely regarded as one of the most impressive campuses in Europe, spanning 133 hectares with world-class facilities designed to provide a unique learning environment for our students. The recent launch of our new strategic plan "Broadening Horizons" aims to build international impact and this new acquisition will help us to do just that."
Chairman of Plassey Campus Centre (PCC) Ltd, Tadhg Kearney added: "It should be noted that the building has been purchased at a significant discount to the cost of building the equivalent space"
"This acquisition gives UL a highly visible presence on the Dublin Road and in the view of PCC, presents opportunities for, among other things, student accommodation, conference facilities, indoor sports and recreation, together with storage spaces, hotel accommodation and restaurants."
The university confirmed that there is currently no planned date on which any repurposing of the complex by the university will take place.
A spokesperson for UL explained: "[The plans] are still at the early stages but as soon as there is an intended date it will be issued."
The university confirmed that neither the café nor the hotel are to be affected by UL's purchase of the complex.
It was also confirmed that the café, Café Noir currently holds a full lease and is in discussions with the university on future plans for the space.
The university added: "The existence of ancillary warehousing and office spaces at Park Point will also offer the potential for UL to continue to provide support for local enterprise and start-up companies, mirroring the current activity of its successful on-campus Nexus Centre in this new adjacent facility."
The newly acquired complex is also within a short walking distance from the local Aldi store, which is currently serviced by a weekly University of Limerick Students' Union bus for students doing grocery shopping at the store.