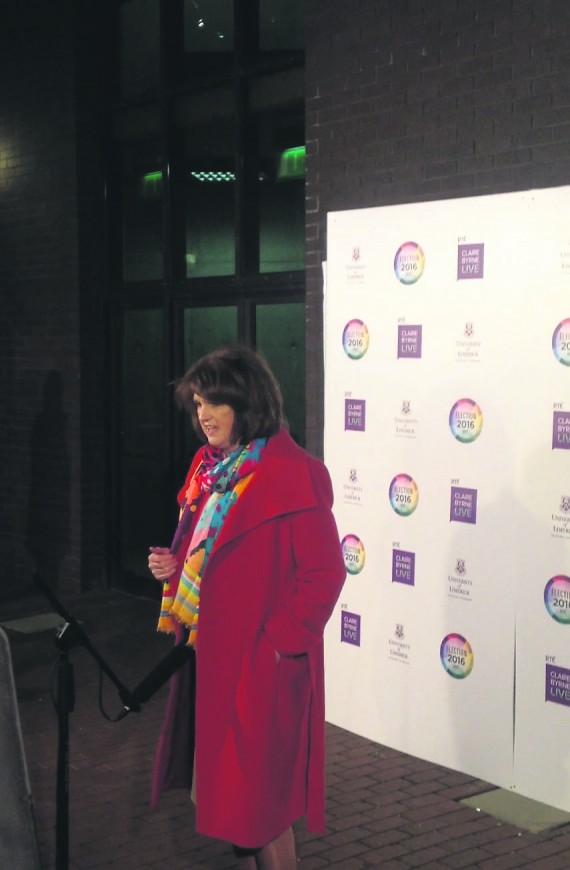 By Tomás Heneghan
The University of Limerick's Concert Hall (UCH) played host last week to seven leading Irish politicians for the first of the RTÉ broadcasted General Election debates to take place outside of Donnybrook in Dublin.
The General Election 2016 polling day is to take place this Friday, 26th February, with polls due to open at 7am and close at 10pm.
Last week's debate was attended by seven party leaders from across the outgoing Dáil. This included Taoiseach Enda Kenny and Tánaiste Joan Burton, as well as leaders of opposition parties.
The debate was broadcast on Monday night on the Claire Byrne Live show, followed by a live analysis show, the Spin Room, which was broadcast from UL's Millstream Common Room.
Two of the key points from the debate included Mr. Kenny's clear pronouncement that Fine Gael would not enter into a coalition government with Fianna Fáil following the election on Friday, as well as Social Democrat co-leader, Stephen Donnelly's assertion that the party was open to coalition if their policies were adhered to.
Speaking to journalists before the debate, Taoiseach Enda Kenny said: "I look forward very much to this debate, to being able to set out what the Fine Gael party position is here in respect of securing the recovery for the future, create more jobs and use the resources of that to invest in public services and deal with the problems that we have."
Tánaiste Joan Burton said: "I'm delighted to be in Limerick. I'm very excited about the debate. I think it's absolutely essential that voters in Ireland get to hear the arguments from the different leaders of the different parties and factions."
Ms. Burton also said: "I think people are always judged by what they've done before and clearly Fianna Fáil drove the country over the cliff, the bus fell off the wheels, whatever way you wish to describe it.
"We came into government in a very difficult time and from a ruin, we've created a very strong, vibrant economy with one of the best growth rates in Europe and with 140,000 jobs, and that is, you know, what we've achieved."
Leader of the opposition and Fianna Fáil, Micheál Martin said: "My focus is on issues and the problems that the face people of the country and that will continue to be my focus from here to polling day."
The Leaders Debate was broadcast just hours after a decision by the High Court to dismiss a judicial review case brought by the Green Party against the party's exclusion from the debate.
Asked if the Green Party would have been a welcome addition to the debate, Renua Ireland leader, Lucinda Creighton told journalists before the debate began: "I think they would, frankly, yes."
She added: "Obviously Eamon Ryan is a political colleague or opponent, depending on what way you want to look at it, in my own constituency and we've already engaged in a few debates together. I think it's a pity but, you know, I can understand the point of view of RTÉ and there has to be threshold I suppose."
Throughout the day leading up to the debate, there was disruption on campus as RTÉ prepared for the broadcast and security checks were carried out.
There were also a number of parking restrictions imposed on campus, as well as a number of pathways closed off during the evening of the debate itself.
The University of Limerick's Director of Marketing and Communications, Mark Mulqueen said: "To everyone whose work was disrupted as a result of the TV Debate event, I would like to again thank you for being so accommodating of what was, I promise, something we don't plan to do again for some time.
"Finally, I wish to thank everyone on my team, especially the event coordinator Sheena Doyle and our many colleagues from across the university, who ensured this event was a success."