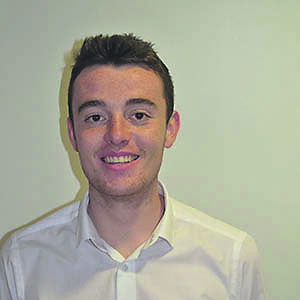 By Colin Clarke
What's the craic. I'm Colin your new student union president. It's an absolute pleasure to be your president and I'm going to be working hard over the next year to try and make this place better and more exciting for you. I was elected by you, the students so you're the most important people here. If we're not doing things right, tell us. If you want us to do something we're not, tell us. I work for you.
My main role is working towards increasing your involvement with the union. I also sit on over 30 university committees as your student representative. I'll fight tooth and nail for you all, providing you don't kill a puppy or something stupid like that. Puppies are sound!
The best advice I could give having gone through five years here would be to get involved. We have over 70 incredible clubs and societies here from skydiving to ultimate frisbee and debating to drama. The opportunities to go on foreign trips and to gain valuable life experiences with all of these clubs and societies are endless. You will make friends for life once you attend that first meeting or training session. Trust me, I've been there.
Also don't be afraid to make a mistake. Whilst college is about academic learning it is also about life learning. The best way to learn how to live the good life is to make mistakes but learn from them. I picked the wrong course in first year and had to repeat. Yes it meant another year but it also meant four more happy ones. Do what makes you happy.
If you get in trouble academically or are finding things hard, talk to somebody. Talk to anybody. Be it a housemate, classmate or councillor, talking helps. College can get tough, for some of you this may be your first time living away from home but it will get easier. My door is always open except when it's closed…because then it's not open…but more often than not it's open.
On a happier note, I hope you guys are ready for a chaotic year. Our fresher's and charity weeks last year were incredible but we might just have a few surprises for you this year. One of the things I'll be doing this year is 'Pints with the President' one evening a week, so you can talk to me in a relaxed environment over a cold pint or a coffee. I'll also be doing a 'Beat the President' series where I'll challenge students each week and if you beat me you can win great prizes like Wolves merchandise or free tickets to events.
UL is not just a place for students either. This year we are working on our strategic plan as we believe UL has a huge part to play in the wider community. We will be distributing our student newspaper An Focal to off campus housing estates in order to communicate the great work we are doing in the union and what's been going on. We have recently hired a new full time editor and have decided to produce An Focal every two weeks like the good ol days.
This year, we have placed greater emphasis on events. We have big plans for new events including our new student dog racing night 'the wolves go to the dogs' which is happening on Thursday of week 4. We also plan to hold a number of non-alcoholic events just to offer something a little different and healthy. But the one big event that we are working on is UL Fest which we have made progress with over the summer having met with the president, vice president, buildings and estates and many other key stakeholders who are supportive of the idea. Our vision is that we could hold a fantastic music and arts festival on Plassey Lawn outside Plassey House and raise a significant amount of money for charity. This could be an event staff, students and alumni could really enjoy together.
It's important that we continue to grow and continue to learn as a union. In July we got the opportunity to visit both Manchester and Leeds Universities' Students' Union which was a fantastic experience as they are both considered two of the best in the UK. Their unions don't compare to ours in terms of staff and resources, for example Leeds have 70 full time staff. In order to reach that stage we need more income generating resources and we have a strategy moving forward which I hope I'll be able to discuss in future editions.
I want to welcome you all, both old and new students. My final piece of advice is to just take that first step and get involved.
Welcome to your new home. Welcome to the Wolfpack. GET WOLFIE, it's going to be a HOWL (sorry that was shite).