Hook and Ladder
7 Sarsfield Street
This week, our veggies took a break from plant based eateries to try something a little more mainstream. As most herbivores will know, it is hard to find new, exciting, or interesting vegetarian options on a regular menu. This week we decided to see what we could find in Hook & Ladder, a chain café, homestore, cookery school and artisan goods store all under one roof. After the business saw great success in Waterford, they opened up a number of locations in Limerick, including one in the city centre.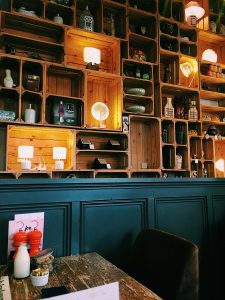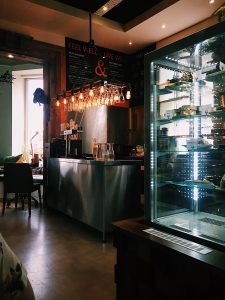 Aimee / Vegetarian Meatballs with fresh tomato & basil sauce & penne pasta (€12)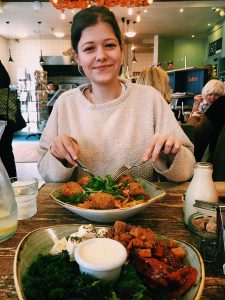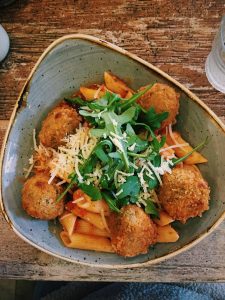 For lunch I opted for vegetarian meatballs and penne pasta. The menu offered little 
information on what these meatballs contained, barring the basil and tomato sauce on which they rested on, but never the less they tasted great!
Although I'm not entirely sure of the ingredients, they were packed with so much flavour. Crumbed and crispy on the outside, with a soft and mildly spiced centre. The pasta was fairly run of the mill in a standard tomato sauce – but add a forkful of meatball and the whole thing is thoroughly enjoyable. I have to say, this one of the yummiest veggie meals I've had in awhile! Also, both of our portions were more than generous – the staff had no problem in packing us up a doggy bag to finish up later.
Nicole / Buddha Bowl with rice, tofu, sweet potato, roast broccoli, mixed green leaves and roasted red peppers (€13)
I am not a salad person (at all), but the Buddha Bowl menu was so inviting I had to give it a try! You 'build your own' bowl at Hook & Ladder, by picking one grain, one protein, four veggies, one 'extra something' (chia seeds, almond flakes, chili pepper etc..) and finally a dressing. There were plenty of options for meat eaters, vegetarians and vegans here, so it's definitely something that was very accommodation to all diets.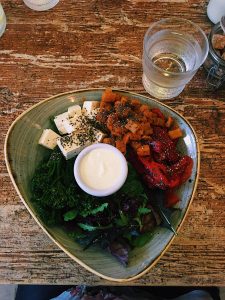 The meal itself was very visually appealing, definitely worthy of some insta snaps for your story! It was really tasty but I wasn't too hungry at the time so asked if I could have it packed up and bring it home with me. Now here's a tip.. when I got home I threw the remainder on the wok and this made an amazing stir-fry. It was even tastier heated up so… maybe Hook & Ladder should look in to offering these warm too!
Final Thoughts
Hook & Ladder is great to pop into and relax, whether it's for breakfast, lunch, or just coffee and a treat. The decor is particularly lovely, we couldn't help getting distracted by all the bits and bobs adorning the walls! We found the staff to be pleasant and chatty, and we were more than happy to give their particularly quirky tip bowl a couple of coins at the end of our meal. Also worth noting that Hook & Ladder, Sarsfield Street have extended their opening hours on Thursday, Friday and Saturday to 10:30pm to accommodate those who want to meet friends later but don't necessarily want to go out for drinks. We think this is a great idea and wanted to give them a big thumbs up for this move.