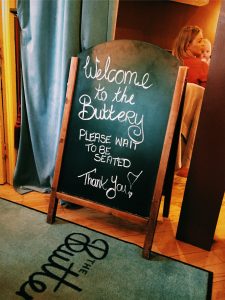 The Buttery
10 Bedford Row
The Buttery Kitchen, Wine Bar & Coffee House is located on 10 Bedford Row, Limerick. They serve breakfast, lunch, dinner, coffee and drinks, and 'bottomless prosecco' on a Thursday night for €15 per person! Nicole was craving pancakes this week so we decided we'd do brunch instead of lunch and check out what's on offer for two hungry veggies…
Nicole / Half portion of Buttermilk Pancakes with maple syrup (€4.50) & Berries (€2)
Went vegetarian four years ago for environmental reasons, partial to trying the vegan option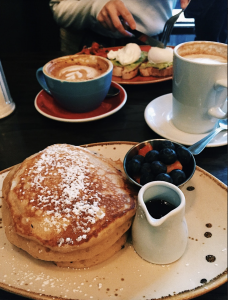 Do you ever just get obsessed with one food item for a couple of days or weeks or months, for no apparent reason? For me at the minute it's pancakes.
This has led me to getting pancakes in various places across Limerick in the past number of weeks with mixed results. I would argue one of the most disappointing foodie moments of life is when you order pancakes and get served those horrendous store bought pieces of cardboard.
Fear not – The Buttery's pancakes are homemade (really), they're filling but not too heavy, and they're definitely not a crepe pretending to be a pancake.
They're also not overly sweet, although lashings of maple syrup will sort that out for you.  
I got mine with fresh blueberries and strawberries which were divine, though I was rather sad to see lemon & sugar wasn't an option (can't beat a classic). I also got a white coffee which hit the spot.
Aimee / Poached eggs with Avocado Mash on Toasted Sourdough with Salsa (egg and avo) (€9)
Went vegetarian ten months ago for health reasons, currently seeking healthier veggie options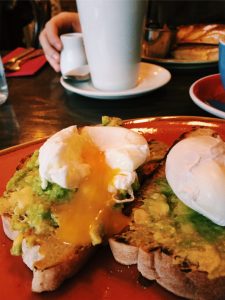 Seeking a more savoury option for breakfast, I was delighted with my choice. The Buttery managed to make what is essentially eggs on toast feel like a new and exciting meal. My eggs were poached to perfection – and I just revelled in letting my yolk ooze out of its cage.
At first when my plate hit the table I thought it seemed a bit small, but this portion was more than generous. The filling ingredients satisfied my hunger and kept me going well int lunch time.
Personally I felt the eggs and avocado tasted great on their own, however the salsa was a welcome addition for a varied mouthful. Paired with my morning dose of caffiene, my meal makred a great start to the day.
Final Thoughts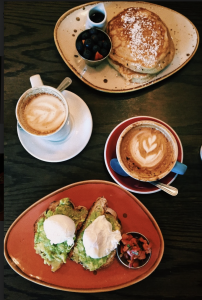 The Buttery is a lovely spot for breakfast/brunch/lunch, and we have plans to check it out for an
evening meal with drinks too.
We loved the decor and though the presentation of the food and coffee's was very cute.
We wanted to take a moment also to give a thumbs up for the gender neutral bathrooms, and for the sign inside that said 'Keys, Wallet, Phone.'
We imagine that's particularly useful if you're there on Thursday for the bottomless prosecco.
It is worth noting that The Buttery do not split bills, which can be an inconvenience especially if you're going with a group, but other than that we found it to be a great spot and we'd definitely go again.