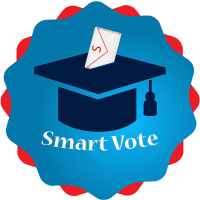 By Mark Nother
With the recent launch of the new SmartVote app and the return of University of Limerick academic, Rory Costello's WhichCandidate app, finding a candidate for the upcoming general election who shares your political views has, potentially, never been easier.
The Smart Vote initiative is run in conjunction with the Union of Students' Ireland and consists of a new website, www.smartvote.ie, and an accompanying smartphone based app, that uses a questionnaire of 30 multiple choice questions to match users with a political candidate that matches their views and opinions on a variety of issues that are very student orientated, from transport to student accommodation.
WhichCandidate is led by Rory Costello of the Department of Politics and Public Administration at the University of Limerick. It is being run in partnership with The Irish Times and can be found at whichcandiate.ie.
Again the user fills out a questionnaire on their stance on certain issues, however what makes this different from the Smart Vote app is the option to remove certain issues from consideration. It is the first time that it has been used for a general election however the system, or a version of it, has been used previously for EU and local elections.
So which should you use? The answer to this really depends on your interest in and knowledge of politics and current affairs. Using the test constituencies of Limerick City and Galway East it is clear that whilst the basic idea is the same, these apps both offer quite different experiences to the user.
The SmartVote app is very easy to use and the whole process is very much streamlined and pain free. You get the feeling that it is made with the average person in mind who maybe isn't that into the nitty gritty of politics but does have a general idea of, and opinion on, the bigger current affairs issues. However someone who is maybe more into politics may find the app somewhat over simplified in terms of the fact that some complex issues are being condensed into a single short sentence. It does overall work very well as a five minute test to see which candidate or party suits your points of view. Conveniently there are also facilities to check which constituency you belong to and if you are on the register of electors.
Unfortunately the questionnaire on WhichCandidate was not yet accessible at the time of writing this as they are waiting on answers from a number of candidates, however those that have answered the questions already have individual profiles on the site that can be accessed to give an overview of each candidate. From experience of using the previous incarnations of the app it is a lot more detailed than its counterpart but many might prefer to forgo this in favour of a quicker smartphone app.
It should be noted that there is of course a tendency to find that candidates have very much, unsurprisingly, answered with usual party rhetoric.
In summary if you're looking for a quick easy-to-use app that will give you a rough idea of the differences between parties and will focus on the more topical issues then SmartVote is probably for you. However if you want a more in-depth app that will allow you to tailor your search to issues of personal importance then the recommendation would be to wait for WhichCandidate. Alternatively the old fashioned art of conversations on doorsteps and the reading of manifestos still remain an option.