Russia invades Ukraine, Gov. Ron DeSantis sets stage for Republican presidential run in 2024, and three officers are found guilty over the George Floyd case. Here are your top stories for Weekly America.
Russia invades Ukraine
Russia has launched a full-scale invasion on Ukraine by land, sea, and air. It is the biggest attack on a European state since World War 2.
Missiles have hit Ukraine in several regions including the capital city Kyiv. The attacks are coming from Russian forces by the north, east, and south of the country.
In northern Ukraine where it borders Belarus and Russia, a large deployment of troops, tanks, and launch rocket systems are directing towards the heart of Kyiv. From the east, tanks have already entered Kharkhiv, Ukraine's second-largest city.
By the south, Russia is utilizing annexed Crimea to deploy troops into Ukraine. The ports of Odesa and Mariupol, located at the west and east of Ukraine respectively, have been met with battle tanks and armoured personnel.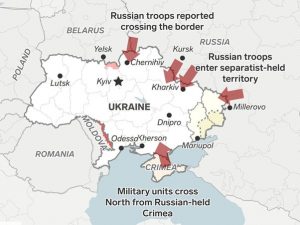 Map: Shayanne Gal/Insider
Weapons will be handed to every Ukrainian who wishes to defend their country from the full-scale Russian invasion. Ukrainian President Zelensky stated: "We will give weapons to anyone who wants to defend the country. Be ready to support Ukraine in the squares of our cities."
Putin intends to use his "special military operation" for the "demilitarization and denazification of Ukraine." The justification astonished Ukrainian President Volodymyr Zelensky who is Jewish himself. He remarked that Ukraine had lost 8 million people during WW2 to fight the Nazis.
Putin threatened global leaders to stay out of the conflict with the following: "A couple of words for those who would be tempted to intervene, Russia will respond immediately, and you will have consequences that you never have had before in your history."
Americans are showing little support for their country to have a major role in the conflict over Ukraine according to a new AP-NORC poll. Only 26 per cent say that they want the US getting involved to a significant capacity.
Earlier this week, Putin recognized the independence of two separatist-controlled regions in eastern Ukraine. The move provoked Western leaders to immediately impose sanctions in an effort to deter further hostility.
President Biden enacted new sanctions on Russia to "maximise long-term impact" on their economy. In total, the United States, European Union, United Kingdom, Canada, Japan, and Australia have all imposed sanctions on Russian banks, oligarchs, and elites due to the invasion of Ukraine.
Russian troops are deployed in Donetsk and Luhansk after Putin recognized these separatist regions as independent. Although Putin claims it was a "peacekeeping" operation, Thursday morning's invasion proves it was a ruse from the Kremlin in order to conquer Ukraine.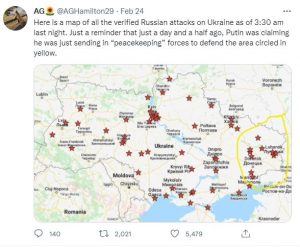 Poland, Germany, and other European countries are getting ready for the influx of Ukrainian refugees coming their way. The United Nations Refugee Agency is working with Ukraine's neighbours to "provide humanitarian assistance" and ramp up their operations.
Biden announced that more US troops will be deployed in NATO regions, but they will not be directly involved in the conflict. He said: "Our forces are not going to Europe to fight in Ukraine, but to defend our NATO allies and assure those NATO allies in the east."
Florida Governor Ron DeSantis sets stage for Potential 2024 Presidential Run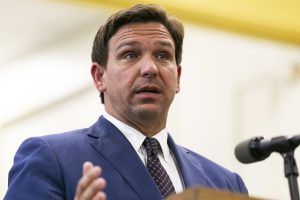 Florida Governor Ron DeSantis makes his grand entrance at CPAC, setting the stage for a potential 2024 presidential run against Donald Trump.
DeSantis was met by a screaming crowd at the Conservative Political Annual Committee in Orlando, Florida as he declared: "CPAC, let me welcome you to the freest state in these United States!"
DeSantis is the favourite for 2024's Republican nominee if Trump doesn't run. Without Trump on the ticket, a poll by The Washington Times/CPAC showed that DeSantis dominated the Republican field with 43 per cent of the vote at last year's CPAC.
According to Echelon Insights' poll, former President Trump is still preferred by conservatives as the Republican nominee with a firm 50 per cent. DeSantis trails behind him at a steady 18 per cent, far more than any other Republican on the ballot.
DeSantis has been a massive hit with conservatives since the summer of 2020 due to his opposition to government lockdowns and mask mandates. He says: "From the very beginning, we refused to let this state descend into some type of Faucian Dystopia where people's freedoms are curtailed, and their livelihoods are destroyed."
Though Florida has the second oldest population in the US, it sits in 18th place for the highest Covid-19 death rate out of all 50 states.
He continued: "We protected people's rights. We protected people's jobs. We protected small businesses and we made sure that every kid in the state of Florida had an opportunity to go to school in-person five days a week."
Trump is up against a worthy opponent with Ron DeSantis teasing a potential run in 2024. Rich Lowry writes for Politico that DeSantis is a "major plus for Republican voters and gives as good as he gets in clashes with the media."
DeSantis' popularity has been grounded in the fact that he is considered a more articulate, calmer, and sensible Trump. Although they align very similarly in terms of policy, conservatives will hope that they can attract more moderates in the 2024 presidential election with DeSantis' personality.
At CPAC, the Florida Governor went for a home run by attacking President Biden's fiscal policy. Dubbing the forty-year high inflation as "Bidenflation," DeSantis is adamant to blame the Democratic president for the economy's downturn – a potential tease of his own campaign strategy in 2024.
DeSantis closed his speech with a sense of urgency, demanding the GOP voter base to get out and vote for the mid-term election. He exclaimed: "We have an opportunity to make 2022 the year that America fought back."
Three officers found guilty of violating George Floyd's civil rights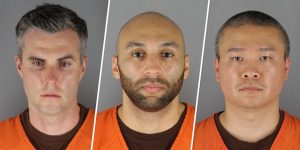 Three former Minneapolis police officers were found guilty by a federal jury for violating George Floyd's civil rights.
The jury found that former Minneapolis police officers Tou Thao, J. Alexander Kueng, and Thomas Lane failed to provide essential medical care to Mr Floyd when he was in "clear need" of it.
Thao, Kueng and Lane each face a maximum penalty of life in prison. In closing arguments, the prosecutors stated that the defendants "chose to do nothing" during the infamous 9 and a half minutes that Mr Floyd was held in a neck restraint.
The defence attorneys claimed that the three former officers did not have adequate training to deal with the matter because they were still relying on former Minneapolis police officer Derek Chauvin as the most experienced officer at the scene.
The jurors also found Thao and Kueng guilty of failing to intercept Derek Chauvin as he kneeled on the neck and shoulders of Mr Floyd.
Earl Gray, an attorney for Thomas Lane, says that the former officer felt "concerned" for Mr Floyd and was ignored by Chauvin when he recommended that Mr Floyd be turned on his side.
Last year, Derek Chauvin was sentenced to 22 years and 6 months in prison for murdering George Floyd – a case which sparked protests, riots, and discussions on race relations and police brutality in the US.
Philonise Floyd, Mr Floyd's brother, spoke after the verdict: "This is just accountability. It could never be justice because I can never get my brother back."
The three men will face trial in a state case later in June where they are charged with aiding and abetting murder and manslaughter in Mr Floyd's death.