Tensions in Ukrainian-Russian relations came to a head on Monday as Russian President Vladimir Putin announced plans to recognise the independence of two pro-Russian separatist groups on Ukraine's eastern border.
The announcement came during an hour-long televised address in which President Putin described Ukraine as a "colony of puppets" who are "preparing military action against our country".
The Russian premier also commented on his suspicion that Ukraine is developing nuclear weapons – something the country renounced after gaining independence from the Soviet Union in 1991.
Why does the announcement matter?
Separatists in Ukrainian Donetsk and Luhansk have been campaigning for independence since 2014, with military backing from Russia.
Conflict has been growing in the adjoining regions since Thursday amid claims from Kiev of ongoing shelling from separatist forces.
Commentators have posited that Putin's support of the two breakaway republics may lend Russia tactical advantage and legitimacy in speculated plans to invade Ukraine.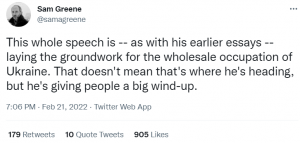 Sam Greene, Professor of Politics at Kings College London
This comes in light of Moscow recently issuing Russian passports to many Donetsk and Luhansk residents and former Russian president Dmitry Medvedev proclaiming Russia's duty to defend its citizens.
On Tuesday, President Putin ordered the deployment of Russian troops into the two separatist regions as part of a peacekeeping effort, though confirmation has yet to come of their arrival across Ukrainian borders.
Some worry that peacekeeping intervention in the region by Russian forces may embolden separatist attempts to secure sovereignty from Ukraine, opening another front on which Russia can mass troops on the Ukrainian border.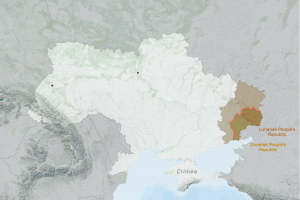 Map: Will Chase/Axios
What's the word coming from Ukraine?
Up to now, the Ukrainian government has been quick to downplay fears of an invasion by Russian forces.
This took a turn on Monday afternoon as Ukraine's foreign minister, Dmytro Kuleba, called on the UN Security Council to hold an emergency meeting to discuss "practical steps to guarantee the security of Ukraine".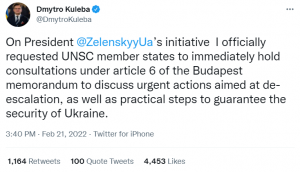 Dmytro Kuleba, Ukrainian Foreign Minister
Ukrainian president Volodymyr Zelensky appears not to hold the same hope as Kuleba, criticising the West's policy of "appeasement" in dealing with Putin and Russia since the 2014 annexation of Crimea.
Speaking at the Munich Security Conference on Saturday, he said: "Just putting ourselves in coffins and waiting for the Russian soldiers to come in is just not something we are going to do."
What's happening on the ground?
An estimated 190,000 Russian troops are currently stationed along the Ukrainian border, with US officials deeming it the "biggest mobilisation of troops since the second world war"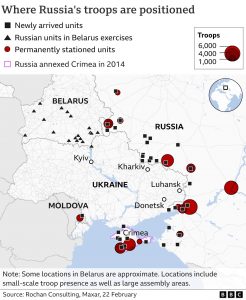 Along the Belarussian-Ukrainian border, Russian troops have been conducting military exercises. The planned 10-day drills began on February 10.
In addition to this, the Russian military has also been implicated by the US and the UK as being responsible for a spate of cyberattacks on Ukrainian government and national banking websites.
The UK's Foreign Commonwealth and Development Office described the attacks as part of a "continued [Russian] disregard for Ukrainian sovereignty".
What's Europe's position?
So far, the European Union has issued sanctions to 351 members of the State Duma (the lower house of the Federal Assembly of Russia), as well as installing bans on the lending of money to Russia's central bank.
German chancellor Olaf Scholz also announced interventions to halt the certification process of Nord Stream 2, a new undersea Russian gas pipeline to Germany, citing Russia's "serious breach" of international law.
Sanctions have also been issued by the UK and the US.
In a joint statement following Putin's announcement, EU Commission President Ursula von der Leyen and European Council President Charles Michael said:
"The recognition of the two separatist territories in Ukraine is a blatant violation of international law, the territorial integrity of Ukraine and the Minsk agreements."
"The EU and its partners will react with unity, firmness and determination in solidarity with Ukraine".