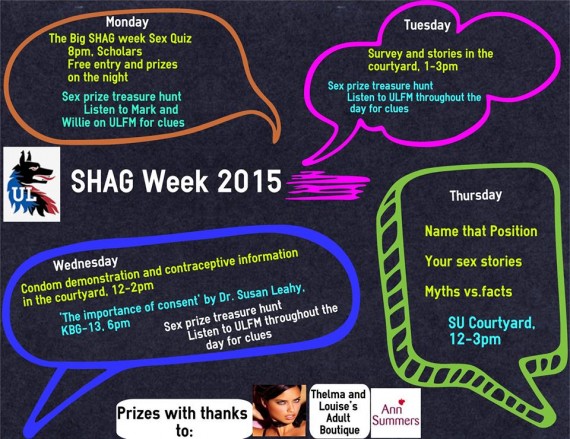 By Ciara Corcoran
Your Union wants you to be yourself at UL. That means having sex if you want to or abstaining if you wish, or just going with the flow, or not being bothered one way or the other. Each is perfectly okay.
Many UL students will graduate having had multiple partners, many having had just one, many having met a long term partner, many having chosen to abstain and many not having had sex at all for no particular reason. Either way, if you choose to have sex, choose to do it safely. Always use a condom, ALWAYS (available from the Welfare Officer or behind reception).
Whether you are lesbian, gay, bisexual or straight, you take the same risk of contracting a sexually transmitted infection (STI) if you don't use a condom. Whatever embarrassment you might think the 'let's use a condom' talk causes, think of the consequences to your health that arise from not using one and it puts embarrassment in the shade.
This year's SHAG week we will be hosting a sex themed table quiz in the Scholars, doing a sex survey around campus, holding a condom demonstration in the courtyard, and asking you to anonymously submit your embarrassing sex stories to put on our 'Awkward Sex Stories' wall. There will be lots of fun stuff and information during the week so be sure to get involved and stay safe!