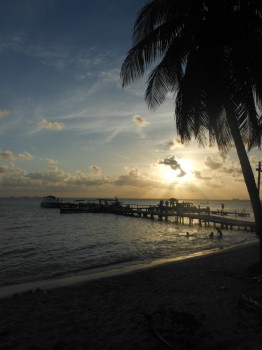 In the weeks leading up to my trip, I had heard about all the dangers of going to Mexico for Spring Break.
American students were warned to stay clear of the Mexican borders due to the dangers surrounding the ongoing Drug War, and to "never go off the beaten track".
Although we were flying to Cancun, an area classified as safe by US authorities, our journey wasn't ending there.
We decided to make the most of our ten day trip and travel all around the Yucatán Peninsula and experience as much as we could of the 'real' Mexico, not just a beach tourist resort untouched by the poverty of the developing country.
Considering I was travelling with a group of seven Polish and two Koreans, and not one Spanish speaker between us, alarm bells should have been ringing. But instead, it all made for an unforgettable ten days.
On arriving in Cancun I was in paradise.
The heat was a welcome change after a winter in Chicago for my Erasmus, and the people, fully aware that tourism is their main source of livelihood, were friendly, welcoming and helpful. We stayed in a downtown hostel, away from the five-star hotels by the coast and the legendary nightclubs (all charging around $40 for entry alone) that attract the legions of Spring Break party goers every year.
We definitely weren't going to be lapping in luxury during our trip.
After a day in Cancun, we hired a small boat and our very own captain to take us to the beautiful Isla Mujeres, eight miles offshore. It was like visiting a postcard; white sandy beaches, hammocks swinging between palm trees, clear blue waters and plenty of Mojitos!
We took a look around the streets of typical tourist shops, went snorkelling around a shipwreck in a reef, and were treated to some fresh fish cooked for us by locals on the beach. We all would have happily stayed there forever but as we made our way back to Cancun, we hit the road.
Our first stop, Valladolid, finally gave us an insight to the poverty of the country. Colourful rows of tiny houses lined the streets, consisting of two rooms at most, with nothing more than a few hammocks inside, and not even a door to protect themselves.
This was also where we found our first Cenote of the trip. These are large pools of crystal clear water, some over 100ft deep, in a large pit or cave, that were originally used as sacred places by the Mayans and with an estimated 6000 of the natural wonders in the Yucatan region alone.
On our way to Merida, the cultural capital, we came across a village festival celebrating the March equinox, or the end of the winter. We decided to stop for some food, and even though the locals seemed a bit bemused to see us tourists, it was all worthwhile once we came across the main spectacle, a Corrida ring, which was a truly incredible experience to watch. Merida had similar characteristics to Valladolid, a main plaza or park in the heart of the city, a Cathedral, long colourful streets with shops and hostels, but sadly for us not a lot of bars!
We went on to visit some ancient Mayan ruins at Uxmal, stopping at a few Cenotes on the way, and then to one of the main highlights of the trip, Chichen Itza, one of the New Seven Wonders of the World. We were lucky enough to be there for the equinox on March 21st to see the light and shadow effect on the Temple of Kukulcan, where the serpent god can be seen crawling down the side of the pyramid.
It was an amazing experience to be there amongst the thousands of people who came from all over the world especially to see it. Our search for a bar in Chichen Itza also came to nothing, and we instead ending up playing a football match with a few locals which most have gone on for hours!
Deciding we had seen enough of ruins, and longed for another few days at the beach, especially in the 30degree heat, we continued our journey to Tulum, and later, Playa Del Carmen. Both towns were far smaller in population in comparison to Cancun, but were also more relaxing, with less holiday-makers but arguably, nicer beaches.
We finally found some decent nightlife too, with plenty of beach-nightclubs to choose from, complete with sand-covered dancefloors.
We finished our trip back where we started in Cancun to spend our last night. I was glad to see the back of the endless meals of tacos and burritos and sleeping in dodgy cockroach infested hostels, I was sad our trip had come to end. Although I was initially worried about all the travelling we would be doing, and the risks involved, I was glad I got to experience as much as I did, and to see so much of the beauty and culture of Mexico that's now largely forgotten about because of the drug war and violence. It's safe to say I'll most definitely be back!
Muireann Coyne