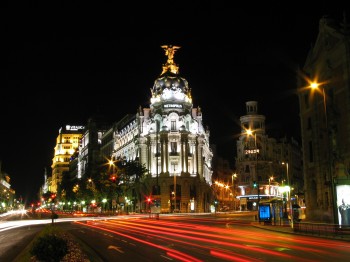 Alana Walsh
IF you are interested in visiting Spain for a break away then why not try the country's capital, Madrid.
The city is filled with things to do and places to see. You could easily spend a long time exploringMadridbut in a weekend it is possible to get a good taster.
When I visited I was living a five hour bus journey away in the south of Spain.
The first thing that struck me was the vastness of the city but never fear, with a map it is easy to negotiate and as well as the usual public transport there is of course the Metro.
I would highly recommend having your hostel or choice of accommodation sorted prior to your arrival though as my friends and I left it to be sorted on the day and traipsed around for four hours trying to find somewhere reasonable.
While Madrid is an incredibly busy and fast moving city, everyone that I encountered during my visit there was pleasant and helpful.
The bright red city tour buses are a great way to get around the city but be sure to plan which sights are your priority as there are two tour routes to cover all that there is to see and hopping on and off does get a bit tiresome.
For about €20 you can get a day ticket for one of these buses. I would recommend in particular doing the tour of Real Madrid's Bernabéu Stadium.
An unguided ticket will cost you sixteen euro but it is really memorable and enjoyable.
For when all that sightseeing, picture taking, walking and hopping on and off a tour bus tires you out, be sure to pay a visit to the James Joyce Irish Pub, nothing beats some good wholesome food and a pint while putting your feet up for awhile. The Sheppard's Pie is to die for!
If you feel like hitting the town obviously the city has a great variety but I went to Club Joy which has a great atmosphere, good music and although it is pricey to get in it is worth it. Drinks are also expensive, spirit and a mixer in Club Joy is €11.
When inMadridyou should definitely pay a visit to San Ginés for their famous churros. Churros are a famous Spanish snack; they are fried dough pastry and dipped in hot chocolate before eating. San Ginés has been around since 1894 and they stay open until 7am so when you leave the nightclub you can grab something sweet to eat.
If you have not already been, put Madrid on your 'To See' list, it does not have the same architectural sights as Barcelona but Puerta del Sol and Plaza Mayor are worth exploring along with the rest of the city.