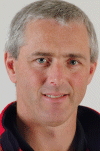 By Tomás Heneghan
The University of Limerick's counselling service is to gain a new counsellor in order to help clear the current backlog of students on the counselling waiting list.
The announcement was made less than a month after the University's Students' Union raised the issue with the Minister for Eduction and Skills, Jan O'Sullivan.
Welcoming the increased resources, ULSU President, Colin Clarke labeled the mental health services in Irish third level institutions as "severely underfunded" and said he was glad to hear of the change now being implemented in UL.
"ULSU were glad to hear that there has been an increase in funding in the counselling department in UL in order to tackle the growing waiting lists we have," Mr Clarke explained.
However he criticised the temporary nature of the move and said the change would only act as a "short term solution to a long term problem".
He added: "Whilst we have successfully lobbied over the last fourth months for an increase in counselling hours, we must ensure we find a long-term solution to this nationwide problem."
Head of Counselling at the University, Declan Aherne said he was "delighted" with the increased funding to help what he called "the continuously extending waiting list".
"More and more students are seeking counselling each week and it is heartening that the University authorities recognise this growing need and have responded accordingly.
"We will now do our utmost to ensure that all stduents get seen during this term," explained Mr Aherne.
The improved resources will now see an additional 20 hours of counselling sessions per week which aims to address the waiting lists up to Christmas.
Mr Clarke explained: "Over the last five years the number of students who are reaching out and seeking help from the counselling department has doubled in UL, yet there has been no increase in funding."
He commended the national effort in addressing mental health services, particularly awareness programmes such as 'Please Talk' and 'Mind your mental health', and acknowledged the positives of an increase in people using these services.
"I do not see the increase in numbers as a negative, rather as a positive. It's fantastic to see more and more people making the courageous decision to seek help and to admit they are not feeling ok. We must ensure that we do not let those people down by saying thanks for coming in but we don't have an appointment for you for three weeks," Mr Clarke added.
"It's incredibly important that we revisit the model for mental health funding in Irish third level institutions. It's statistically proven that counselling can dramatically decrease the student drop-out rate.
"So not only is it the morally correct thing to do, it also makes sense in terms of business. Retention rates are hugely important to universities so why wouldn't you invest in the welfare of students?"
Mr Clarke also called on all third-level institutions in Ireland dealing with similar waiting list issues to "follow suit" and to put in place an interim solution as UL has now done.
"Yes it may mean an increase in expenditure but it will not break the bank. It will cost UL just under €13,000 in order to ensure we provide functioning counselling services between now and Christmas. Surely that money will be well spent if it saves just one person."